Companies Smuggle People Internally Between Damascus and Idleb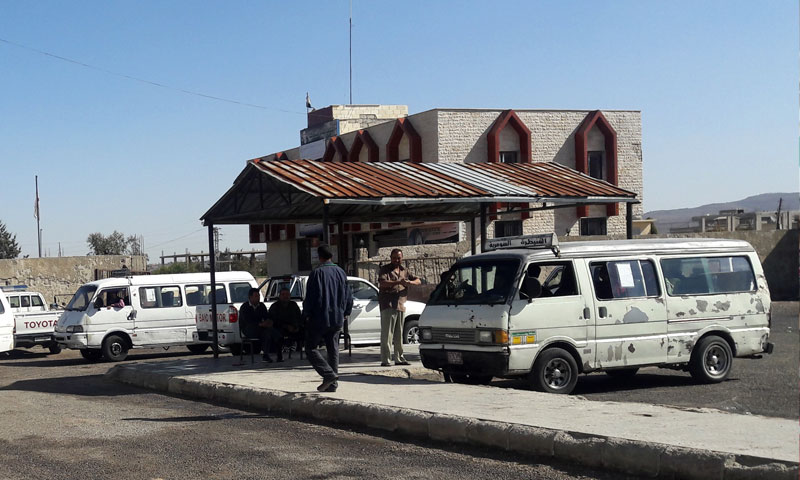 With the rising number of displaced people moving from parts of the Damascus countryside to northern Syria, many have found a new livelihood by dealing in human smuggling and organizing trips from the capital Damascus to Idleb and vice versa.
The increase in the number of people who want to flee the prospect of military service in Syrian regime areas or those returning from camps in the north to their homes in the south has forced them to pay large sums to reach the other side, whether they are under regime or opposition control.
Human smuggling networks have moved from operating secretly to operating openly and have even begun to advertise themselves on social media and online and set up pages presenting themselves as licensed companies or travel agents.
Hasnaa al-Homsi, a resident of eastern Ghouta who was forced to flee from toward shelter centers in the Damascus countryside last March, told Enab Baladi that she decided to leave Damascus out of fear of arrest, adding that she communicated with some transport offices in Qalaat al-Madiq in the Hama countryside, which deals with the checkpoints set up along the way, in order to reach the city of Idleb.
200,000 Pounds for Women or 250,000 for Men
These offices deal with buses that bring passengers from Damascus to the al-Suqaylaybiyah area before the buses are exchanged for cars that continue the route, according to Hasnaa al-Homsi.
She adds that the office charges around 150,000 Syrian pounds per person.
The cost for other companies is up to 250,000 pounds, according to Enab Baladi's sources, who included Duaa, a resident of eastern Ghouta who recently arrived in Idleb. (A dollar is equal to about 450 pounds).
Duaa, 32, says that she communicated with a transport company in Jaramana known as Al-Saqr which is well known, and in her first communication with them the price of a single passenger was 15,000 pounds with "guaranteed" arrival.
With residents of eastern Ghouta and south of Damascus leaving and Assad's forces taking control of these areas, demand for these trips has increased, raising the prices for residents to 250,000 pounds per person.
Enab Baladi contacted the Al-Saqr company but it did not send a reply. The director of another transport office in Idleb province, who asked to be known as "Abu Farouq" said that the fare for passengers from Damascus to Idleb varied according to age and sex of the passenger. For women it's 200,000 Syrian pounds and for young or older men the price is 50,000 pounds more.
Enab Baladi also contacted the al-Yamama office in Idleb province, which said that the route from Damascus to Idleb was very difficult but it was passable the other way.
It said that the price of transportation from Idleb to Damascus was 75,000 Syrian pounds but it declined to give any details of the cost from Damascus to Idleb, only saying that it was a "high price".
"Regarding the route, it's guaranteed. No one asks the passengers where they were coming from or going to and in four hours you reach the office in Idleb," says Abu Farouq.
With the profits that these companies and offices are securing, they have started to do other routes into Turkey in cooperation with smugglers on the Turkish-Syrian border. They have begun to put announcements on Facebook pages about what they describe as a "guaranteed" smuggling route from Damascus to Idleb and then to Turkey.
The price of smuggling a single person from Idleb to Turkey is at least 300,000 Syrian pounds, excluding the price of leaving Damascus to Idleb.
Hasnaa says that she was heading to Idleb with the aim of heading to Turkey, but that the process cost nearly a million pounds.
---
This article was translated and edited by The Syrian Observer. Responsibility for the information and views set out in this article lies entirely with the author.
if you think the article contain wrong information or you have additional details Send Correction