Bosra Amphitheater: Syrian World Heritage Site Is Again Target for Shelling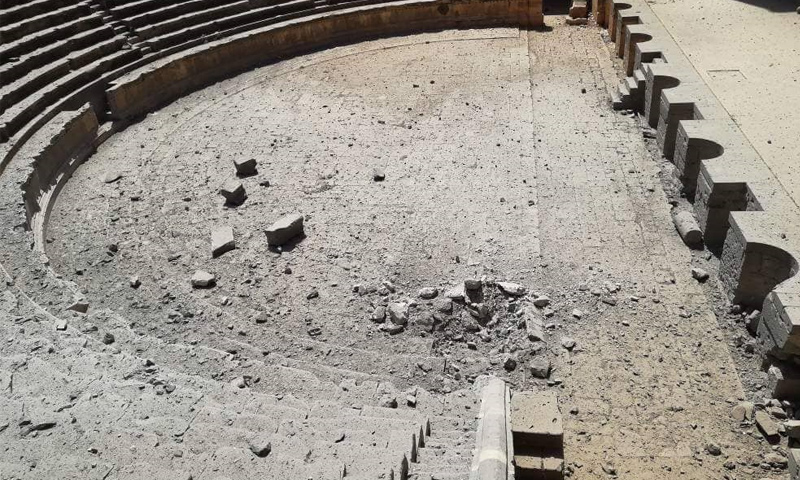 The nonstop shelling on the eastern countryside of Daraa has inflected a sufficient damage on the Roman amphitheater in the ancient Bosra al-Sham Citadel, in southern Syria.
Ahmad al-A'dawi, the head of the Bosra Bureau of Antiquities, told Enab Baladi that the Syrian and the Russian air forces have targeted the citadel with four air raids on June 28, causing a massive damage to the place.
He added that the air raids have largely affected the second and the third floor of the Roman amphitheater, in addition to the "serious" damage of the Citadel's orchestra courtyard.
The cities and towns of Daraa are suffering an escalating military action by the Syrian regime and its Russian ally, which began nine days ago, amidst a notable progress of the regime's forces in the eastern and the western rural parts of Daraa at the expense of the opposition factions.
The opposition factions had total control over the city of Bosra al-Sham in March 2015 and formed a body known as the "Bosra Bureau of Antiquities," to protect, restore and document the monuments and museums in the city.
The city of Bosra is one of the most important archaeological sites in Syria, dating back to the Roman era. It was registered in 1980 as a UNESCO World Heritage Site. It consists of several landmarks; the Roman amphitheater, the Bed of the King's Daughter, Bosra Citadel and Bab al-Hawa.
This is not the first time that the Syrian regime targets Bosra ruins, for this was preceded by another offensive that followed the opposition factions' control over the city, which ended up with the disfiguration of the archaeological site.
if you think the article contain wrong information or you have additional details Send Correction