Assad's Forces Fail to Advance in the Al-Lajat Region in Daraa Governorate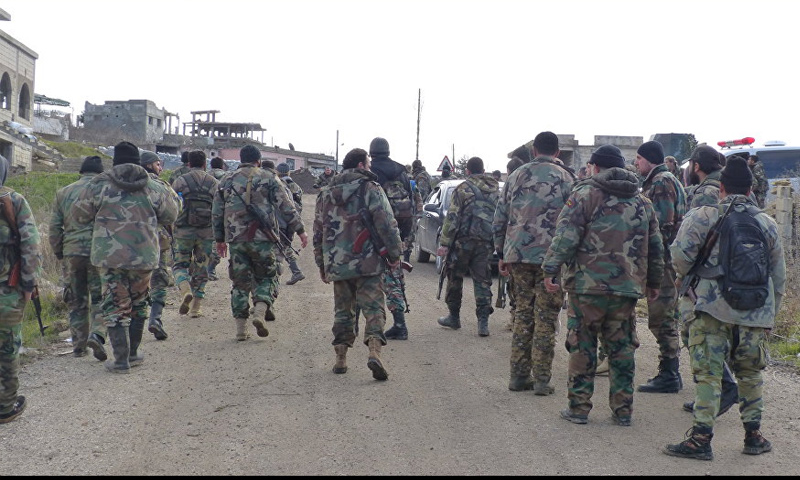 According to local opposition factions, Assad's forces and allied militias have failed to advance in rebel-held parts of the al-Lajat region during the regime's campaign to isolate the area from the remainder of eastern Daraa Governorate.
The commander of the "Ahrar al-Asha'ir" faction Rakan al-Khadir (known as Abu Hatem) reported on Wednesday 20 June that the regime had failed three times to advance in the region, including toward the villages of al-Bustan, Labin, and Houran. This included a failure to advance on the Air Defence Brigade area south of Daraa city.
The commander told Enab Baladi that "violent" confrontations had been ongoing 
on Tuesday
 in the Air Defence Brigade area, which is currently viewed as a separating line between the regime and opposition.
Assad's Forces have not officially commented on the campaign. However, the radio station Sham FM, which is close to the government, said that regime forces advanced 6 km toward the centre of al-Lajat in the Houran Douira area and gained control of some farmlands.
The station also claimed that the regime has gained control of new areas on the outskirts of al-Masika and Busra al-Harir villages.
Enab Baladi's correspondent in Daraa Governorate said that artillery fire had targeted the al-Lajat region as well as Busra al-Harir and the surrounding areas.
The correspondent said that shelling by Assad's forces shifted on the morning of 20 June to the north of Daraa Governorate from the Triangle of Death area. Particularly targeted were Kafr Shams and al-Hara towns, with rumours circulating of an invasion of this area in the following hours.
According to the commander al-Khadir, regime forces were concentrated in the Air Defence Brigade area – which is part of al-Masika town – and these had not made any advance.
Military sources had previously told Enab Baladi that Assad's forces may choose to begin their operations around Busra al-Harir town. Gaining control over this town would isolate the al-Lajat area completely from the rest of the areas in eastern Daraa.
Several opposition factions are active in the al-Lajat area, including Jaysh al-Islam, the al-Umari Battalion, Jaysh Ahrar al-Asha'ir, the Amoud Houran Division, and Tahrir al-Sham.
In the event that the al-Lajat region is cut off, regime forces will not need to enter the region militarily but can rather apply pressure for opposition groups to surrender without fighting them.
The al-Lajat region is known for its rocky geographical terrain and tribal environment, making it a stronghold for opposition factions allowing them to wage battles lasting for many months.
if you think the article contain wrong information or you have additional details Send Correction