Assad's Forces Announce Cutting Off Faction's Supplies between Daraa's Rural Parts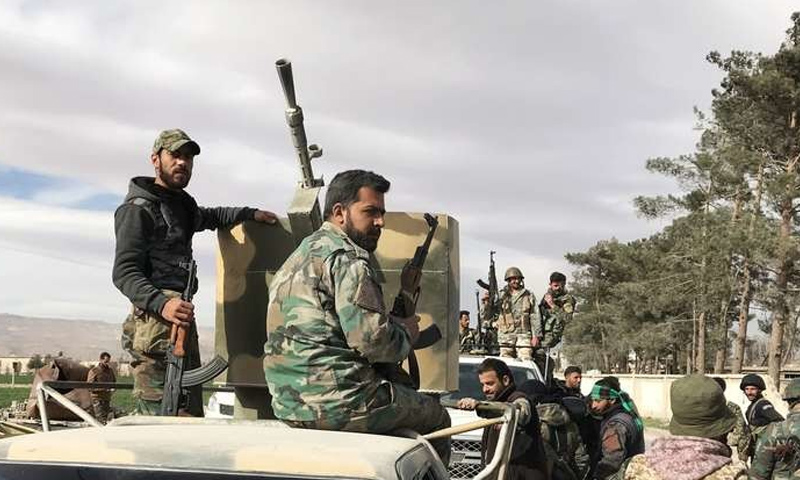 Assad's forces and allied militias have announced cutting off the supply roads of the opposition factions between Western and Eastern rural parts of Daraa, after the military road connecting them has been entirely covered by the forces' weaponry range.
Yesterday, on Friday, June 29, the "Central Military Media" has reported that Assad's forces have controlled Tell al-Zumaiytah, western Daraa, which supervises the military road, connecting the eastern and the north-eastern rural parts of Daraa, as well as the western and the north-western rural parts of the governorate.
It also pointed out that the progress is persistent, seeking to seize the Air Defence Battalion completely, based in the south-western part of Daraa al-Balad.
The military factions have not so far commented on the Assad's forces' declaration of advancement in the area.
Enab Baladi's reporter in Daraa said that Assad's forces have progressed to some of the hills overlooking the military road, but they are not fully established there to the time this report was written.
According to the field control map, Assad's forces are aiming to besiege the neighborhoods of Daraa al-Balad by controlling the Air Defnece Battalion from the western side and the area of Gharaz in the western countryside.
Daraa is undergoing sudden and rapid developments, following Assad's forces entry to the Western and Eastern rural parts without fighting under a deal they made with the area's people.
According to the reporter, the Russian police have entered to the cities of Da'el and Abtaa, amidst talks about their intention to enter the city of Tafas, aiming to arrive at the fronts controlled by "Khalid ibn al-Walid Army".
The Official "Syrian TV Channel" has reported that Assad's forces have recaptured the towns and villages of al-Hirak, as-Sura, Elmah, Rakham, the eastern and the western al-Malihah, in rural Daraa, after conducting reconciliation agreements with the people there.
These developments came a few hours after the 12-hour truce between Russia and the opposition factions, for the first has imposed terms that provide for a full control over Daraa, the factions' surrender of all their weapons, forcing the troops to legalize their status, without approving their departure to Northern Syria.
if you think the article contain wrong information or you have additional details Send Correction