12 Hours Truce between Russia and Daraa Factions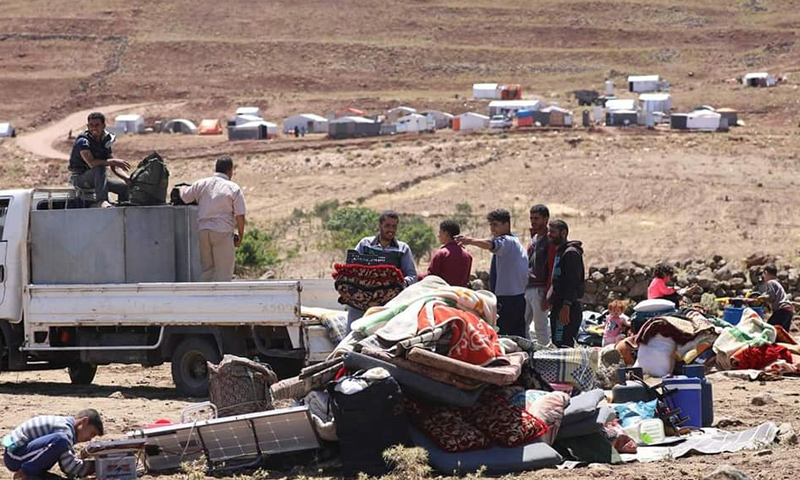 The military factions in Daraa have reached a 12 hours ceasefire agreement in the governorate that will last to 12 o'clock today, Friday, June 29.
Informed sources have told Enab Baladi on Thursday June 28 that the two sides have sealed the deal following a meeting in the city of Daraa in the morning.
The sources added that Russia has imposed certain conditions on the factions to approve prior to the end of the agreed upon ceasefire deal.
The conditions provide for surrendering the arsenal, both heavy and light, and the legalization of the area, except for those controlled by "al-Nusra Front," under Hay'at Tahrir al-Sham, and the areas of the "Islamic State" (ISIS).
The truce's conditions also provide for giving up on the Syrian-Jordanian borders to the Syrian regime completely after the faction's retreat from area.
The leader in the "Free Army," wishes to stay anonymous, confirmed the above-mentioned conditions, telling Enab Baladi that the factions have not yet made their decision.
He said that it is expected that the factions will refuse the terms suggested by Russians, considered as "quitting, especially in relation to the complete surrender of areas and weaponry."
The truce followed the massive progress on the part of Assad's forces and allied militias in the eastern countryside of Daraa.
They have yesterday controlled the strategic "52 Mika" Brigade, in addition to the al-Hirak town, as-Sura, Elmah, while they managed to open a new axis at the western countryside from direction of the city of al-Shaykh Maskin.
The current development resembles what happened in Eastern Ghouta and the Northern countryside of Homs before Assad's forces got complete control over them.
The Syrian regime has, yesterday morning, intensified its shelling against Daraa, launching more than 150 air raids as the "Civil Defence Center" in Daraa has mentioned on "Facebook."
The shelling focused on the cities of Bosra, al-Hirak, al-Ghariyah al-Gharbiyah, Maaraba, Karak, al-Musayfirah, Jasim, Nimer, al-Harra, Nawa, Abtaa and Da'el.
According to the Center, the shelling led to the death of ten people in the al-Musayfirah and three other civilians and 15 injured people, including six women and three children, in Da'el, western countryside of Daraa, in addition to a wide displacement movement of dozens of thousand people from the eastern cities of Daraa.
if you think the article contain wrong information or you have additional details Send Correction