Women Handmade Crafts Exhibition in Northern Aleppo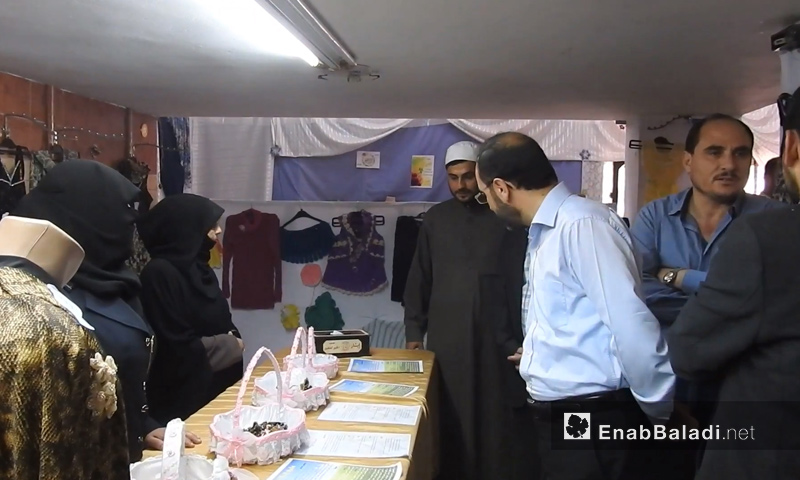 A number of women have presented the items they made in the frame of the handicrafts' exhibition in the city of Mare' in Northern Aleppo, after they attend training courses for months, which are sponsored by the Office of Social Affairs and Labor at the city's local council.  
The Office has organized the exhibition over two days, to end on April 26; it presented textile and wool made clothes in addition to handmade items, made by both "martyrs'" wives and daughters.
Um Mohammad, a martyr's wife and a mother of six, told Enab Baladi that "she loved to learn sewing, after she heard of the registration at the Office of Social Services."
"I have learned a lot in the past months," says Um Mohammad, stressing that she had neither courage nor ability at the beginning, but she developed her skills and managed to present some of the items she made during the exhibition.
According to women trainers, who contributed to the improvement of the women participants' skills, the Office has conducted repeated visits to check on the psychological and financial situation of these women, as to help "them overcome their fears and to have the ability to make a living for their families, away from dependence on other people."
Fouad Abbas, the Head of the Mare' Local Council, explains the nature of the training courses, in which the exhibition participants were indulged, saying that "we organized two courses, each of them was three months long, including 35 women trainees."
The courses' goal is that "the martyrs' wives should not only stay at home, but they must be triggered to build their future and life despite all the difficulties facing them," according to Abbas, who believes that "the courses proved a success, the outcome of which appeared at the exhibition."
In the meantime, the Local Council is studying the possibility for launching a factory or a workshop that accommodate all the participants, to guarantee the continuity of their production, according to Abbas, who pointed out that the council "is looking for a suitable place and a market to sell the products through addressing the area's merchants".
if you think the article contain wrong information or you have additional details Send Correction