The First Chess Championship for Amputees in Idlib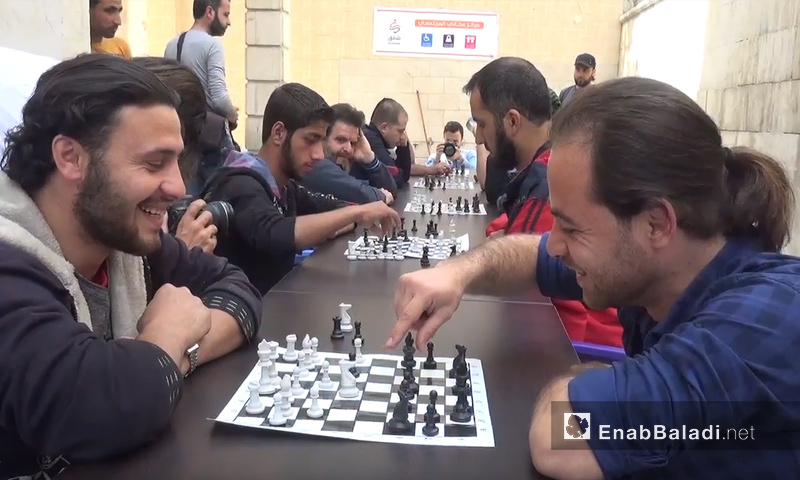 Supervised by Omayya Club and in coordination with "Makani" (My Place) Center in the "Shafaq" Organization, a chess championship was arranged for people with disabilities and amputees in the city of Idlib.  
The championship, which started on May 1, included the participation of ten amputees, who formed two competitive groups, of which two players will reach the final round, according to Mohammad Marie Shaikh al-Hadadin, a physical therapist and a member of Omayya Club's Administration in Idlib.
In an interview with Enab Baladi Shaikh al-Hdadin said that the championship aims to alleviate some of the burdens erupting from the amputation, du to which the participants have lost a body part, and to encourage them to continue their lives in a normal manner, adding that the winner will receive prizes from the "Makani" Center, planning to conduct similar championships periodically.
The World Health Organization statistics show that more than three million Syrians are suffering disabilities and war-related injuries, calling for an additional interest in them and the need to increase the funding offered to the case.
In a report published in last December, the Organization stated that 1.5 million Syrians developed disabilities due to war and the conflicts in Syria after 2011, with a rate of 30 thousand cases every month, pointing out that 86 thousand are amputees, the third of which are children.
The report attributed the marked increase in the number of the "war-related disabilities" to the usage of new weaponry and explosive devices, focusing on barrel bombs and the burning weapons, which have been used for the past seven years in Syria.
Omayya Club in Idlib governorate pays a specific attention to amputees, as it organizes sports events, in addition to the body building center it constructed for them. The club has also formed a football team of 23 members, the majority of whom are amputees who have participated in a carnivallike game in November.
The activities were not limited to football alone, for Mohammad Shaik al-Hadadin, born in Idlib 1988, has explained that the players will extend their activities to table tennis, chess, iron sports, in addition to swimming with summer's beginning, stressing that the whole action is following an integral program and special training.
He added that these activities seek to offer moral and psychological support to the war's victims and to rehabilitate them and then integrate them into the Syrian society, which enhances their chances of finding jobs and opportunities that suit their physical conditions or help them have prostheses.
if you think the article contain wrong information or you have additional details Send Correction