Project for the Renovation of Schools in Idlib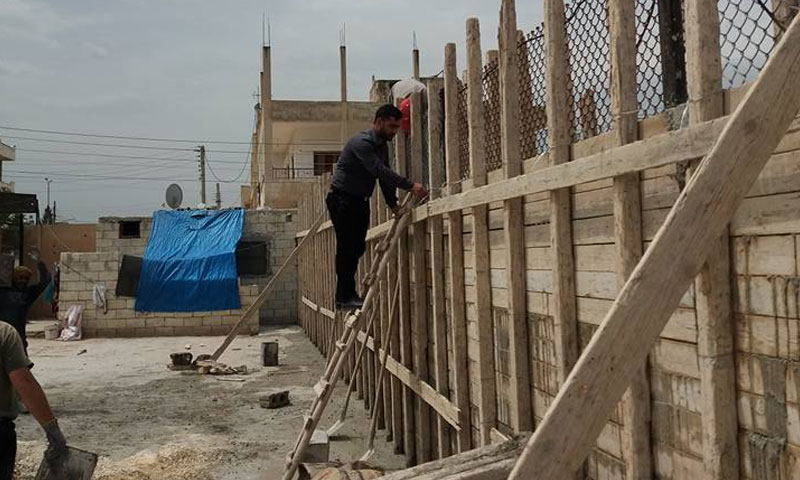 The "United Engineers" Organization has started an engineering project for the rehabilitation of schools in Idlib governorate, including areas where schools have been damaged as a result of hostilities in the governorate.
The project, supervised by the organization in cooperation with the Free Idlib Education Directorate, includes the renovation of 40 schools, of which 30 have been completed so far. Starting in January and the work will continue until May, according to the Director of the Department of Restoration in the "United Engineers" Organization Mazen al-Bakri.
Al Bakri told Enab Baladi thatThe project covers several cities and towns in the governorate of Idlib, namely: Idlib, Ma'arah al-Nu'man, Turmanin, Ariha, Kafr Nabl, Saraqib and Maarrat Misrin. It includes schools that are partially affected by the conflict. The project has secured at least 40 jobs, In Idlib, mostly occupied by the governorate's engineers.
The most prominent schools that have been completely renovated are Mutanabi, Abdul Karim Lathkani, Mustafa Afarah, Jamila Bouhired, Sanaa al-Rabee and Dohat al-Ma'refah.
The education sector in Syria has suffered heavy losses over seven years of conflict, leaving more than 2 million children out of school, according to the United Nations Children's Fund (UNICEF), in its report issued on Monday, April 23.
UNICEF attributed children's drop out of school to the fact that 309 educational facilities in Syria have been affected by the armed conflict; one out of three schools have become out of service since 2011 due to shelling or because it turned into a shelter for the displaced.
The Ministry of Education in the government of the Syrian regime estimated the damage of the educational sector between 2011 and 2016 with almost 235 billion Syrian pounds, with five thousand partially or completely damaged schools. The damage culminated in Idlib governorate with about 772 schools, followed by Aleppo 301 schools, in addition to 1889 schools that have been used as makeshift centers for sheltering the displaced people.
The opposition-held areas have witnessed several schools' renovation projects under the supervision of the local councils in those areas, especially in rural Daraa and Aleppo, in addition to the presence of organized engineering groups, including the "United Engineers Organization" and the "Free Engineers Union".
In sync with the school's renovation project in Idleb Governorate, the "United Engineers Organization" is organizing training courses for young engineers, including workshops on several engineering programs, such as ETABS, AutoCAD and 3D MAX.
if you think the article contain wrong information or you have additional details Send Correction