Negotiations Fail for Exit of "Jaysh al-Ababil" from Southern Damascus to Daraa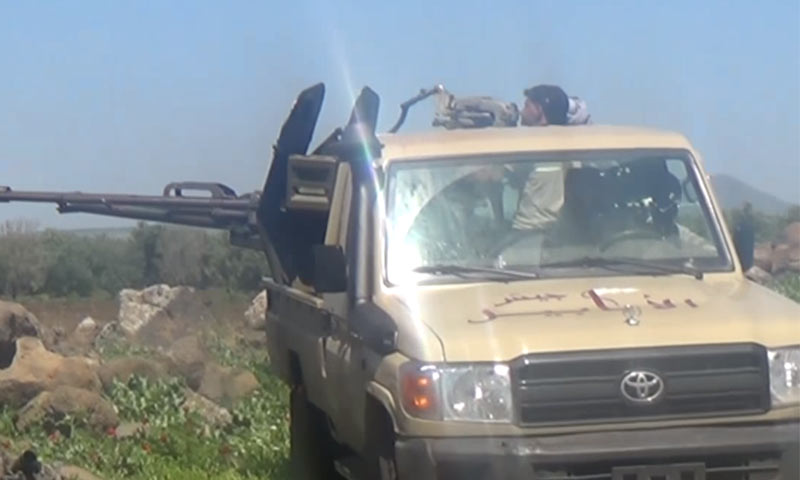 Negotiations have failed between "Jaysh al-Ababil" and Russian military forces for the exit of the group to Daraa Governorate as part of the evacuation of opposition factions from southern Damascus.
Well-placed sources told Enab Baladi on Friday May 4 that negotiations had been ongoing over recent days for the faction's exit to Daraa. However, proposals for the exit fell apart over disagreements regarding weaponry held by "Jaysh al-Ababil".
The first wave of displaced people from southern Damascus arrived today at the "Abu al-Zandin" checkpoint near al-Bab, Aleppo Governorate, while a second wave was preparing to be transported to the same area.
Opposition factions handed over frontline areas against ISIS in southern Damascus to Russian and the Syrian regime several days ago. Meanwhile, clashes have remained ongoing between Assad's forces and ISIS fighters in the area until the present.
A source in southern Damascus told Enab Baladi that the decision for the faction to leave to northern Syria – either to Idlib or Aleppo Governorate – had been approved by the Russian military. An exit to Daraa had also been agreed upon by the Russians during negotiations, on the conditions that "Jaysh al-Ababil" leave its weaponry behind.
Meanwhile, a source from "Jaysh al-Ababil" in Daraa told Enab Baladi that the group had rejected the Russian proposal and demanded to leave in possession of personal light weaponry.
The faction's fighters are deployed on the Yalda and al-Tadamun fronts in southern Damascus, which are adjacent to Beit Sahem town. The group also occupies several points in the Aqraba area, and others in the al-Andalus neighborhood adjacent to the airport highway.
The group is seeking to enter the al-Jaydour area in Daraa, which is considered the stronghold of "Ababil Houran," the faction's regional branch. The area includes a group of towns and municipalities, the best-known of which are Jassem, Inkhal, al-Hara, Kafr Shams, Zamrin, and Nimr.
The proposal being negotiated with the Russians was for the entry of the faction via the Kafr Shams checkpoint toward al-Jaydour, which is located around 50 km from southern Damascus.
if you think the article contain wrong information or you have additional details Send Correction