Mare' City: A Healing House for Eastern Ghouta's Injured People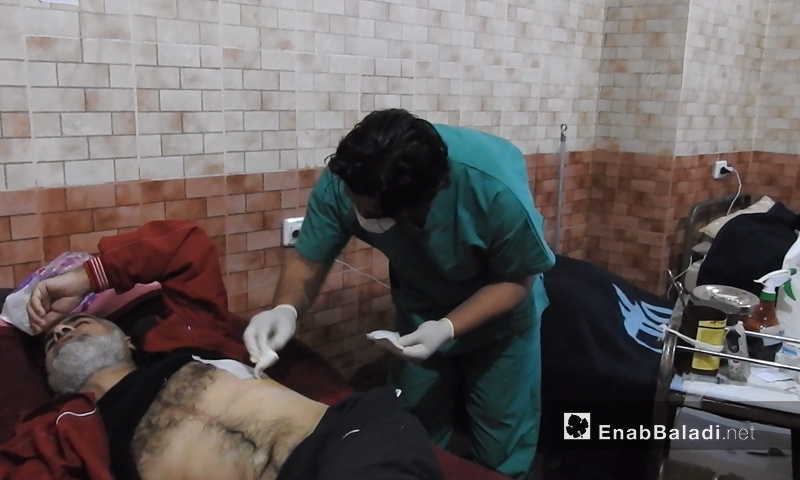 Free Aleppo Health Director, in cooperation with the Mare' City Medical Office, a house to offer medical care to the injured people of Eastern Ghouta, accompanied with daily therapeutic and pharmacological services.
Launching the Healing House came as an "urgent" response to the last wave of displacement which Eastern Ghouta witnessed last March, when its people were displaced from their areas to the northern countryside of Aleppo, with a massive number of injured and ambutees, which called on the need to establish a medical center to provide them with necessary medical care.
Mohammad Turk, an administrative official at the healing house, told Enab Baladi that the center constitutes of three stories and a large number of beds for the injured people, pointing out that, so far, the center has accommodated 70 patients, of whom 25 are amputees, who are in need for prosthetics and urgent body correction.
He added that the house's medical team includes doctors and nurses from Eastern Ghouta itself.
According to Mohammad Turk, the "House of Eastern Ghouta's Injured People," in addition to medical treatment, offers psychological services; it also includes a physical therapy department, a feeding department and a sleep department, supported by "Physicians Across Continents," as well as individual help offered by some of the area's hospitals.
More than 67 thousand displaced people have reached Northern Syria from Eastern Ghouta, including a number of injured people, in line with the statistics of the Rural Damascus Provincial Council, under the Syrian Interim Government.
In the past period, the northern countryside of Aleppo, under the Turkey-managed "Free Army" Factions, has also received thousands of the people who have been displaced from different other Syrian areas, including al-Qadam, Eastern Ghouta and Eastern Qalamun.
In the northern countryside of Aleppo, the civil committees' representatives and the response coordinators are working hard to secure temporary housing centers and permeant houses; they are also trying to provide the people with relief shares, medical and other basic needs, in addition to securing transportation means from the housing centers to the permeant residence points.
The committees have agreed to establish an emergency room, joining all the active organizations in the area, to communicate, coordinate and follow up all the developments.
For its part, Turkey has received a number of the injured and war-affected people, who have been displaced from Eastern Ghouta and offered them medical services in its hospitals at the borders with Syria.
Last February, Eastern Ghouta suffered a massive military campaign that destroyed a crucial part of its infrastructure and led to the death of more than a thousand people and the injury of 4800 persons.
if you think the article contain wrong information or you have additional details Send Correction