Illiteracy Eradication Courses in Rural al-Hasakah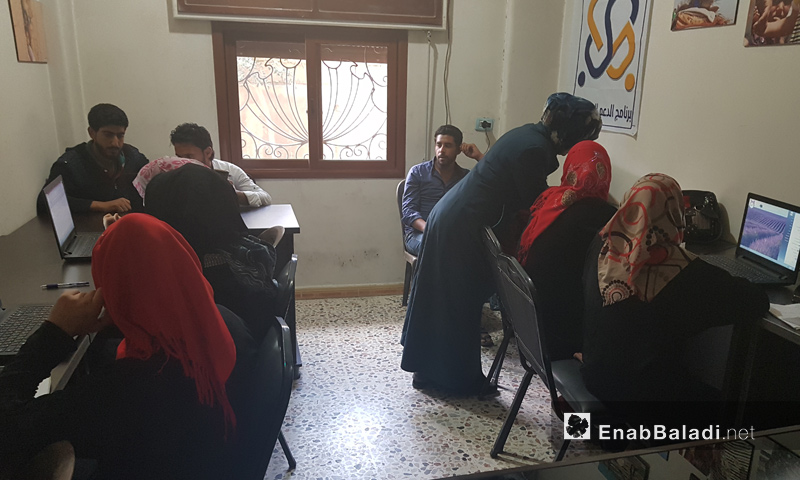 Mohammad, 9 years old, from the city of al-Shadadi in rural al-Hasakah, speaks about his learning opportunity, over joyed about the letters he has learned, for the first time, after he dropped out of school years ago. Today, he is recovering the loss by attending the illiteracy courses, which "al-Shadadi Center for Civil Society" runs.
Mohammad told Enab Baladi that he could not write or read, pointing out, with a redundant structure, that he is benefiting from the learning process at the center, which continues to conduct activities that target children, women, young men and have an ultimate goal, the eradication of illiteracy.
The courses are a volunteering effort and are free of charge, says the trainer of the Social Support Program in al-Shadadi, Hadiah al-Hamzah, pointing out that "everyone is cooperating to help the people, especially elderly and the children who dropped out of school."
Helin is also attending and benefiting from these courses, saying that she dropped out of school when she was a seven grader, many years ago, adding that "I have forgotten everything. Today, I am learning the letters a new."
The young man Hassan al-Jadwe, who is attending a computer skills' course, says that he was committed from the very beginning. He described the course to Enab Balad as "The first of its kind in the area, which gave him the necessary skills to work."
The courses seek to initiate the uneducated people, due to the circumstances which the city has endured, Hadiah explains to Enab Baladi saying that "the targeted people are those who could not attend school under the reign of the Islamic State."
She added that the center "will continue to offer these courses; it tries, no matter how simple, to improve the beneficiaries' skills, especially at writing and reading, so that they would be able to better integrate into society."
Running the courses followed a discussion at the center, which included a number of the area's people early in April, presenting dialogues about the varied activities of the center and the means to develop the work, one of which is the eradication of illiteracy course, according to the trainer.
The "Syrian Democratic Forces" (SDF), which the Kurdish "People's Protection Units" stand as its basis, have controlled the city of al-Shadadi, on 22 March 2016, in the frame of a military campaign, it triggered against the "Islamic State" under the name of the "Wrath of Khabur."
if you think the article contain wrong information or you have additional details Send Correction