After the al-Mayadeen Crisis… New Regulations For Media Coverage in Syria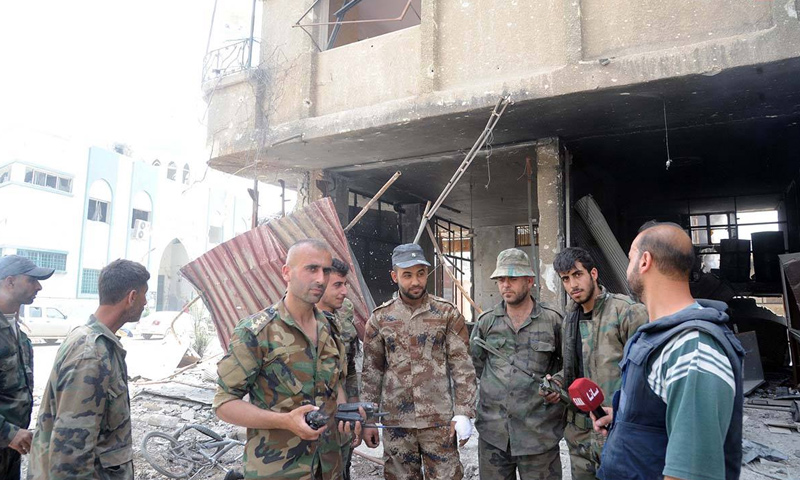 The Syrian government's Media Ministry has specified new regulations for media coverage in the country, according to an announcement by the Director for External Media Alaa Ibrahim.
Ibrahim said on his Facebook page on Thursday May 4 that "regulations specify that official media will be continuously and directly present in a war correspondent capacity with the Syrian Arab Army and accompanying and allied forces, wherever they may be".
Ibrahim added that official media had become a daily component of field and military operations in all their aspects, such that the media were considered "an ally and a friend" which was present whenever conditions permitted.
Ibrahim said that entry to areas which were witnessing combat operations would be dependent on prior approval of the Syrian Arab Army and accompanying military forces as representatives of the government's political administration.
This development comes after the Lebanese media network al-Mayadeen was prevented from covering the exit of militants from the Yarmouk camp to northern Syria, which sparked a war of words among official and pro-government media against al-Mayadeen.
The government-run networks al-Fadaiya and al-Ikhbariya took part in the criticism of al-Mayadeen, describing it as "propaganda media" and affirming the preference for "Syrian media which has provided coverage for the martyrs".
News of al-Mayadeen being blocked spread widely on social media. Pro-government outlets described the development as "the correct decision", saying that "it is Syrian media which must take priority in reporting the country's news".
Al-Mayadeen being blocked from Yarmouk was met with mixed reactions among its followers, with some complaining that Russian networks were given priority in getting coverage and permitted to take footage.
Ibrahim went on to say that some media networks had not complied with previous laws on the matter. He claimed that regulations would almost never expose field operations or the lives of soldiers and journalists present in the area to danger.
if you think the article contain wrong information or you have additional details Send Correction