A Ceasefire Agreement in Yarmouk Camp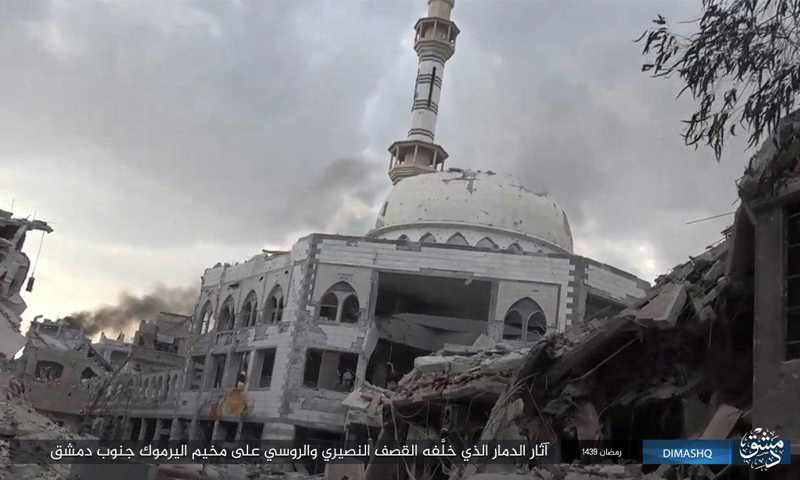 Assad's forces and the "Islamic State" (ISIS), located in the Yarmouk camp and al-Hajar al-Aswad in southern Damascus, have reached an agreement, providing for a 17-hour ceasefire.
According to "Russia Today," the ceasefire is to enter into force today, Saturday 19 May, starting at 12 noon to Sunday morning at five.
The news agency said that the agreement provides for ISIS members withdrawal from al-Hajar al-Aswad and the Yarmouk camp.
For its turn "Sham FM," a pro-regime network, said that "there are talks about ISIS' terrorists surrender in southern Damascus."
However, the Syrian regime has denied conducting a ceasefire agreement with the "Islamic State" in al-Hajar al-Aswad and the Yarmouk camp in southern Damascus.
Today, on Saturday 19 May, the Syrian Arab News Agency (SANA), a governmental outlet, has quoted a military source as saying that "there is not an agreement between the Syrian army and the terrorist members of ISIS in al-Hajar al-Aswad, and the information being circulated are not accurate."
According to Enab Baladi's sources, leaders of the "al-Ghaith Forces," affiliated with the "4th Armoured Division," have, yesterday evening, told their group members that the battle in the Yarmouk Camp has needed, demanding that they get prepared to head towards Daraa.
This came after 28 days of the break out of the battles between Assad's forces, their alley militias and the "Islamic State" in southern Damascus, through which none of them prevailed over the other.
Yesterday, "Amaaq" Agency, an ISIS affiliate, has reported that the fighters of the "Islamic State" are still responding to Assad's forces' attempt at storming the area and that they have lost more than 900 personnel and 37 military vehicles.
According to the agency, the air raids targeting the Yarmouk Camp, 80% of which has been destroyed, are persistent, with an estimated ratio of a 100 air raid every day that focus on residential neighborhoods.
Pro-regime networks have mentioned the reasons behind the delayed control of the "Islamic State" positions in southern Damascus, attributing it to the complex geography and the difficult structure of building, hindering the heavy and basic armored vehicles from going deeper through the ground incursion.
Prior to the military operation, the "Islamic State" had control over about 70% of the Yarmouk Camp's area, positioned in the al-Hajar al-Aswad neighborhood (its headquarters), al-Asali area in the al-Qadam neighborhood, in addition to parts of the Damascene Tadamon neighborhood.
The "Islamic State" did not address its casualties in southern Damascus; while activists have mentioned the killing and escape of its princes and elements during the ongoing battles in the area.
if you think the article contain wrong information or you have additional details Send Correction