Syrian Regime Reopens the Babbila-Sidi Meqdad Checkpoint in Southern Damascus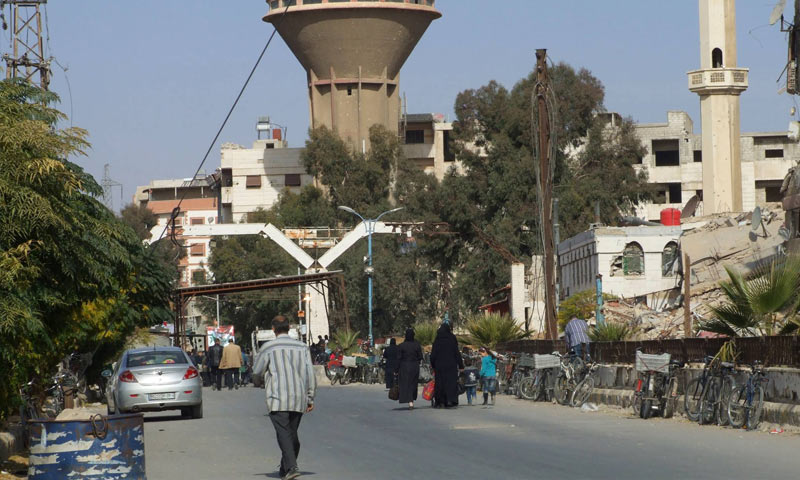 The Syrian regime reopened the Babbila-Sidi Meqdad checkpoint in southern Damascus, after closing it for about 24 hours.
Today, on Saturday 7 April, Matar Ismael, a media activist in the "Revolution Spring" Website, said that Assad's forces have reopened the checkpoint after closing it yesterday as a reaction to opening the al-Aurouba crossing, which separates the town of Yalda from the locations of the "Islamic State's" (ISIS) fighters in the Yarmouk Camp and al-Asali.
The crossing was closed many times in the past a few months and is considered the last in the area between the regime and the opposition.
According to Ismael, the area's factions have opened the "al-Aurouba" crossing in an undeclared manner, despite a decision issued by the Public Body in Yalada, on the 30th of last March, that provides for closing the crossing entirely in the face of ISIS' fighters.
The "Babbila-Sidi Meqdad" checkpoint is the only route for admitting commodities and food materials to the neighborhood; it was closed many times before and "royalties," decreased and increased repeatedly, have been imposed to allow for entering the commodities.
This corresponded to pro-regime media talks, in the past two days, about the regime's intention to finalize the area's file.
"Al-Watan" newspaper has quoted sources, on Thursday, as saying that "the matters are strongly heading towards conducting a reconciliation with the towns," pointing out that "most of the armed men started to give up on their stubbornness after the Syrian army's control over Eastern Ghouta."
Enab Baladi's sources said that an agreement is likely to be conducted, providing for the departure of some of the factions in the upcoming days, on the condition that others remain to face the "Islamic State" (ISIS).
Other sources have linked the finalization of southern Damascus' file to ending the Duma file, in Ghouta, which remained after the displacement of thousands of people from the middle sector and Harasta to Northern Syria.
The opposition controls the towns of Babbila, Yalda, Beit Sahm and Qadam, which for years have been living a truce. These towns have joined the "de-escalation" agreement in October 2018, after the Egyptian side has entered the talks as an intermediary.
if you think the article contain wrong information or you have additional details Send Correction