"SDF" Announces Deir ez-Zor's Oil Fields as a Military Zone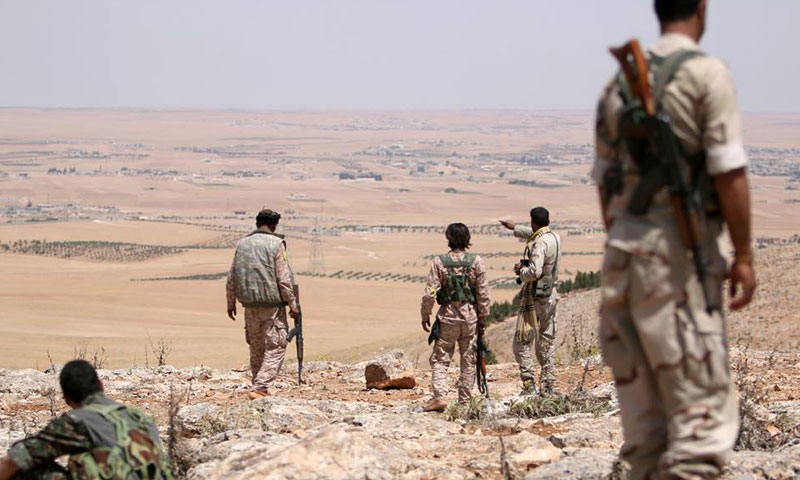 The US backed "Syrian Democratic Forces" (SDF) has announced the oil fields in Deir ez-Zor as a military zone, in sync to military escalation with Russia backed Assad's forces in the governorate.
Today, on Saturday April 7, the "al-Jazeera Storm" Operation forces mentioned through "Telegram," that SDF has announced the oil fields in the governorate a closed military zone, following the arrival of large US army military convoys to the area.
Media sources from Deir ez-Zor told Enab Baladi that dozens of US machines and military vehicles have in the past two days reached the town of Suran in the northern countryside of Deir ez-Zor, corresponding to the US-led coalition's sporadic shelling on Assad's forces positions.
Pro-regime pages have previously confirmed "SDF's" military build-up and said that US forces have brought military bridges to the area of the "koniko" field in rural Deir ez-Zor, which seems like preparations for a military operation in the area.
In sync with announcing the oil fields as a military zone, the "Baqir Brigade" militia, backed by the "Revolutionary Guard Corps," which support Assad's forces, announced the beginning of the military operations against the US-led coalition in the east of the Euphrates.
In a published statement, yesterday, the Brigade said that "the Jihad operations against the Us-led coalition have begun," calling the civilians to move away from the US positions.
The militia also added that it prepared "Jihadists and Commandos who do not fear death," and threatened the US bases, saying that "they will be under the fire of the resilient heroes in the al-Baraka tribe and the Baqir Brigade."
The Russian-American statements about Syria have escalated, in the past a few days, following the Us-led coalition's air raids on Assad's forces and Russian forces' positions in the east of Deir ez-Zor.
The area of Deir ez-Zor and its surrounding are witnessing a Russian American confrontation. In the past days' period, Moscow's official statements increased accusing Washington for preparing to strike the regime and to target its forces with heavy weaponry, aircraft and "Cruise" missiles.
On the 7th of last March, the "al-Jazeera Storm" Operation forces have mentioned that huge "SDF" and US army convoys headed to the southern countryside of Deir ez-Zor, accompanied by the Coalition's aircraft's intensified movement in the area, seeking to protect it from Assad's forces and ally militias' attacks.
America and Russia have, in the past days, exchanged accusations of military mobilization to rural Deir ez-Zor, amidst talks about a US-led battle that the eastern area awaits.
if you think the article contain wrong information or you have additional details Send Correction