Scouting and Psychological Support Programs for Children in Homs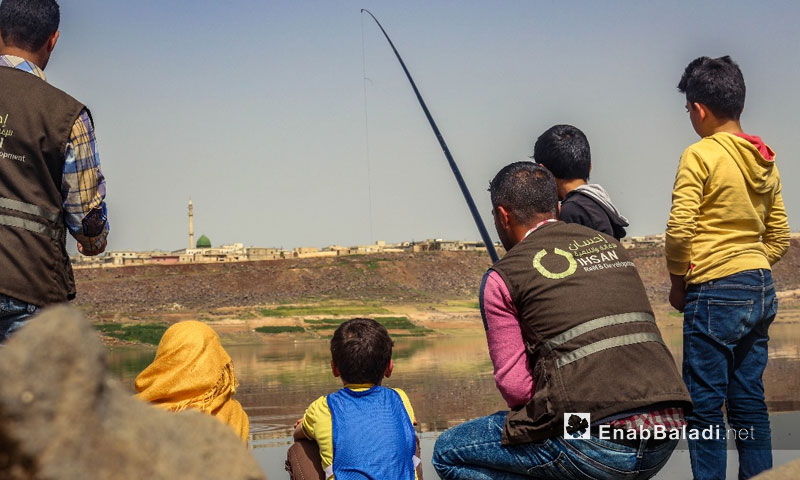 "I could not catch any fish, but I managed to solve two riddles during the competitions," Lina al-Shaikh Ali, a 10 years old little girl, says speaking of her first visit to the al-Rastan farms and the dam at the banks of the Assi river in the northern countryside of Homs.  
Lina's father is a detainee in the regime's prisons; and she tells Enab Baladi that she wants to accompany him to the same place. She also participated with her peers in the scouting activities, under the auspices of the "Child Friendly Center," affiliated with "Ihsan Relief and Development" late in March.
Nawara Farzat, a 12 years old little girl, says that she managed to catch a fish, adding that she and other 20 children participated in a number of activities and training, including solving riddles, competitions and collaborative activities, according to the team's leader Hany Saad Al-Deen.
The Scouting project aims to create a space for children in which they can fulfil their duties and show responsibility towards the team, according to Saad Al-Deen, who believes that "he succeeded in utilizing the children's abilities, no matter how weak they are, to complete the activities in a proper manner".
Under the scouting activities, two teams competed, according to the team leader, who says that he tried to expand the activities to include mental and useful activities, pointing out that "reaching the banks of al-Rastan's dam was difficult before, but we made use of the shelling's cession, and we got a written approval from the children's parents".
The "Child Friendly" Center started in July in 2016 and has different departments that relate to psychological support, entertainment, educational activities which target children and women.
According to Saad al-Deen, the center targets 600 children every two months following its plan for the areas in the northern countryside, on top of which: Rastan, Talbiseh, Granada, al-Hashimiyah and al-Makramiyah, in addition to a psychological support team that targets children in the difficult to reach areas.
The team leader assures that he is trying to reach the two areas of al-Dar al-KabirahTeir Maalah and other areas in the upcoming period.
In the past two years, the Center has targeted 7200 children and 1440 women within projects for elderly and scouting, in addition to educational programs and other projects that targeted people with disabilities, according to its management.
if you think the article contain wrong information or you have additional details Send Correction