Rural Idlib: Military Barrack is Turned into a Housing Center for Ghouta's Displaced People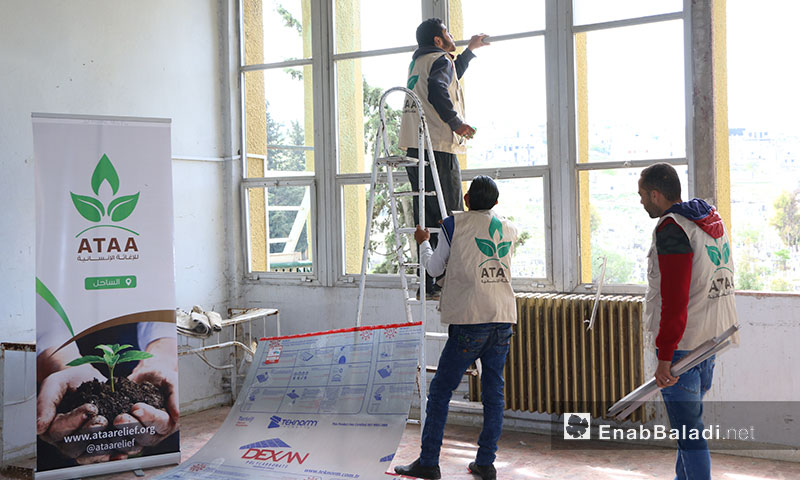 "Here, also, there is shelling. It targeted the building with a number of mortar shells. But, definitely, they are nothing like the shelling in Ghouta," says Mahmoud al-Sahar, who arrived at Jisr al-Shughur in Northern Idlib from Damascus' Eastern Ghouta.
With the arrival of thousands of Eastern Ghouta's displaced persons, the people's initiatives and the local organizations' projects followed aiming to house the displaced people temporarily, until they are transported into more stable places.
Al-Sahar is one out of 22 families that housed a building in Jisr al-Shughur, which Assad's forces used as a barrack, when they had control over the area.
Statistics by the United Nations Office for the Coordination of Humanitarian Affairs (OCHA) indicate that the number of the housing centers in Idlib and the rural parts of Hama and Aleppo has reached 168 positions, accommodating 12700 families from the different parts of Eastern Ghouta.
Employees Donate Their Salaries to Restore the Building
"With the buses' kick off from Eastern Ghouta to the point zero, located in the town of Qalaat al-Madiq in rural Hama, we announced a state of alert to provide these displaced people's needs. This triggered the idea of donating a part of the employees' salaries to restore this building," explains Ahmad Lulu, the Director of "Ataa" for Relief Organization's office in Jisr al-Shughur and the restoration project's manager.
"We managed to collect about nine thousand dollars to cover the project's costs. We immediately focused on a building in the area of Jisr al-Shughur; it consists of three floors. Racing with time, we managed to restore the building in three days," Lulu added.
Formerly, the building was used as a hospice. After the break out of the revolution, Assad's forces have turned it into a military barrack. It remained thus until Jisr al-Shughur was controlled, in April 2015, after which the building was managed by local civil associations, on top of which was "al-Birr Association".
Following months of abandonment, the organization rehabilitated it and provided it with solar energy boards and electricity batteries for lighting. Its housing capacity, thus, reached 25 families, with covering the operation costs for three months.
Iyad al-Na'ssan, the director of the Organization's office in Hama, told Enab Baldi about the project's moral effect, "for most of the projects usually undergo a process of marketing and are being studied, in addition to many other boring routine procedures, which might end with approval or refusal. However, this project was our choice, and we needed no one's approval to implement it."
In Need for Medical care
Omar Katab, displaced from Eastern Ghouta, lives with his family that consists of 15 members, tells Enab Baladi that "any place is better than where we were living in Ghouta. We lived in the crowded damp basements and the danger of death haunted us from every side. We left Ghouta without taking anything with us."
Despite what the Organization is offering, there is a shortage in medical services, especially provided for children with all the health issues that accompanied them during the siege, according to Omar.
Eastern Ghouta has been besieged since the summer of 2013, through which new diseases have proliferated, including malnutrition that killed a number of children. It has also witnessed a massive shelling, the intensity of which has increased in the past a few months, which led to more than a thousand deaths and hundreds of injured people.
Abbas al-Omar, from the city of Jisr al-Shughur, believes that these projects are like a first aid solution for the displaced people, but they cannot be considered a permeant place to house.
He said that the displaced people, just like the host community, must seek finding a more stable place and to rebuild all that they have lost.
Idlib governorate incubates 2.5 million people, including more than a million-displaced people. With the arrival of more than 50 thousand displaced persons from Eastern Ghouta, many questions have been raised concerning the governorates' ability to accommodate more civilians and to provide them with houses and resources that cover their demands.
if you think the article contain wrong information or you have additional details Send Correction