The First Portion of "Harasta's" Evacuees Reaches Rural "Hama"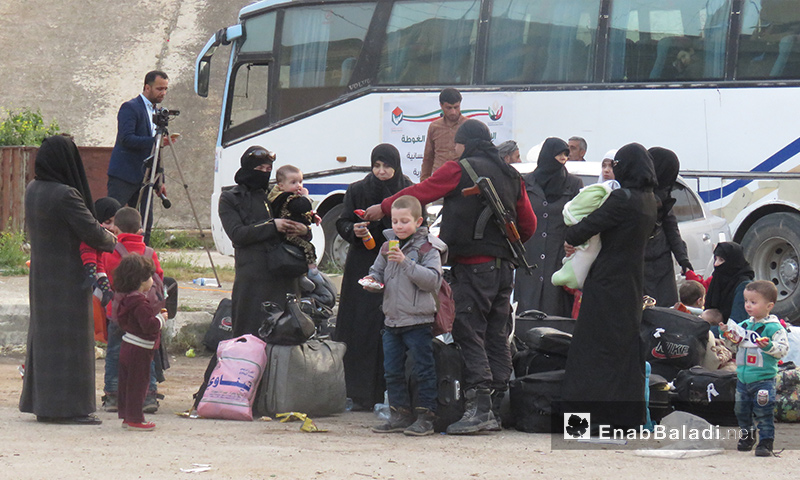 The first portion of the displaced residents of "Harasta" in Eastern "Ghouta" has reached "Hama" countryside after hours of executing their "Outing agreement".
"The convoy reached "Qalat Al-Madeq" at dawn on Friday 23 March, and it had 1908 people, fighters, women and children", Enab Baladi's reporter in Hama countryside said.
Harasta has witnessed major military operations during the last month where the opposition managed to besiege Vehicles Management Base (VMB) and took control of the western area, but Assad's forces isolated it from the middle sector earlier this month.
The formal Syrian news agency (SANA) said yesterday that The Syrian Arab Red Crescent convoy entered "Dawar Al Thanawia" area in Harasta in order to evacuate the fighters and their families, the process was supposed to be in two stages.
The numbers of the evacuees to Idlib were estimated to be around 1500 opposition fighters, six thousand people of their families who did not want to compromise their status with the regime.
And according to the reporter, among the displaced, there were four wounded persons, one was in critical condition along with one person who died on the way from Damascus countryside to Hama.
One pregnant woman stayed with The Red Crescent in a hospital in "Banyas", in order to deliver her baby.
After the displaced arrived, organizations, emergency systems and Civil Defense groups received and referred them to northern Syria hospitals.
The reporter has also said that the rest of the displaced will be moved to "Saaed" and "Meznaz" camps, which were previously prepared in Northern Idlib countryside.
The agreement, which was under Russian guarantee, stated on allowing the fighters to get out with their weapons along with civilians who want to go to the Syrian North with guarantees from the Russians.
Guarantees were given by the regime and The Russians to the residents who wanted to stay in the city, they promised to not disturb anyone in the city and to preserve city's components without any forced evections or demographic change.
A committee from Harasta's residents "from the in / out side", was formed based on the agreement to follow up the status of the people who stayed in the city, the detainees and to facilitate civil affairs.
The Assad's military operations in Ghouta is coinciding with the execution of the agreement, and they just took control over "Wadi Ein Terma" yesterday, while "Douma" and cities of the middle sector are under heavy shelling.
if you think the article contain wrong information or you have additional details Send Correction