Short-Term Projects Aim to Employ People in Rural Aleppo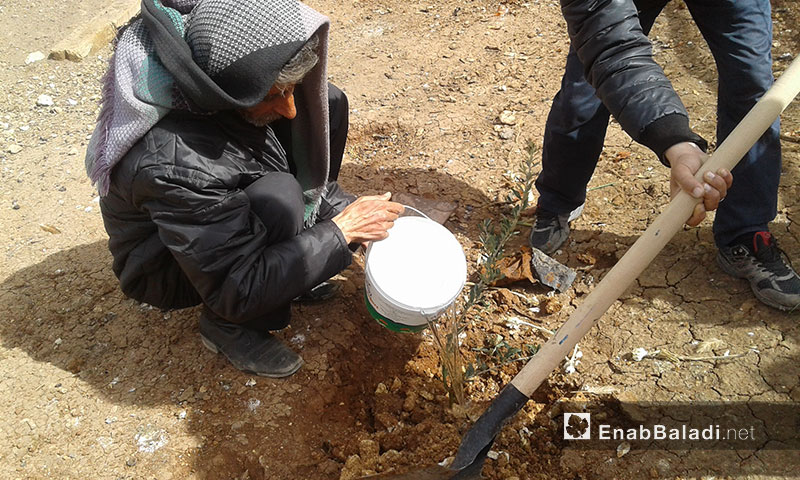 "I depend on myself instead of waiting for a relief basket at home," Mousab al-Abed, from the northern countryside of Aleppo, said, after he managed to participate, benefit, from the "Money for Work" project, the idea of which is based on planting fruitful trees in the gardens of the area's people's houses.
Mousab is one of the project's, under which he started to work on Wednesday, March 7, beneficiaries; he told Enab Baladi that he wishes that such projects persist, regardless of the sponsoring party's identity "to provide dozens of the area's people with work opportunities, for they are in need."
The afforestation project is conducted through a cooperation between the Local Council in the town of Dabiq and the "Solidarity" Organization; the project provides jobs for 39 people, for a duration of 15 days, at a rate of four hours of daily work, in return for a 2500 Syrian pounds daily wage, according to Nouri al-Ahmad, the Director of the Agricultural Office in the Local Council.
Al-Ahmad pointed to the plan, which the project follows, saying that "35 saplings are planted every day, varying between olives, figs and grapes."
The project aims to offer jobs to the unemployed youth, and the people who are responsible for making a living for big families, as well as those who are responsible for elderly and afflicted people, according to the Director of the Agricultural Office, who explained that the workers were divided into three mobile groups, each of which has a supervisor.
The groups pay visits to houses and start planting the saplings for the people who would like to revive their gardens.
Al-Ahmad believes that any developmental operational project is reliable to push the people a step further from direct relief support, which obstructs the growth of society and locks it in a constant state of consumption, rather than production.
Abdul Kader Jijo, a member of Suran Local Council, told Enab Baladi that the council, lately, has sponsored projects which "respect the dignity of citizens, in need and internally displaced people," according to what he said.
The projects' nature varied, for some were initiated in the form of a clean-up campaign, the rehabilitation of the town's streets and pavements, as well as small projects dedicated only for women, seeking to help them learn special crafts, which have the possibility to become their source of income after mastering them.
Lately, these projects have become a trend in northern Syria. Most of the people who sponsored them sought to enhance the role of the male and female beneficiaries, "to be active members in society," according to their description.
if you think the article contain wrong information or you have additional details Send Correction