Russia Bombards Bridges in al-Ghab Plain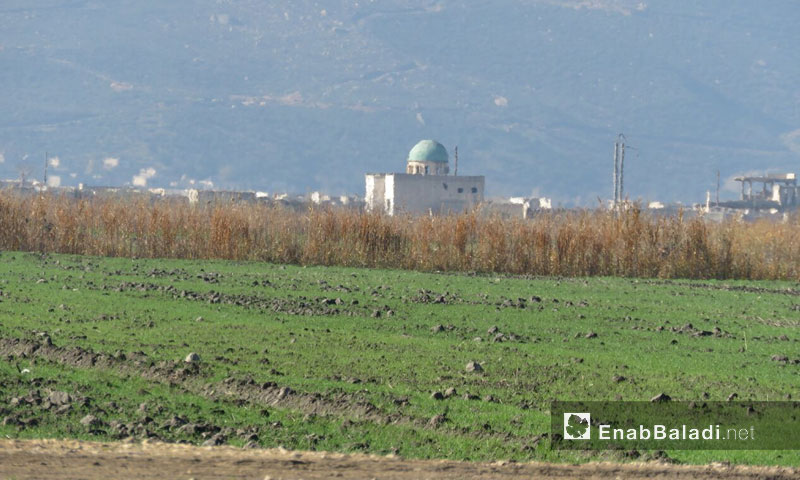 The Russian military aircraft have intensified the raids on the villages and towns in rural Idlib and Hama, in sync with the arrival of the displaced people of Eastern Ghouta to the area.
With vacuum missiles, the Russian aircraft have targeted a number of bridges in al-Ghab Plain, including al-Jayyid, al Sharia and al-Tuwayni bridges, in correspondence to fake raids with decoy flares that have been used to inspire fear in the people only, according to Enab Baladi's reporter in rural Hama, on Saturday, 31 March.
The reporter said that the attack also affected the surrounding of al-Tuwayni in al-Ghab Plain, without any details about deaths or injuries to the time of writing this report.
Russia attributes its attacks on northern Syria to the presence of "al-Nusra Front," despite the fact that the area has been part of the "de-escalation" agreement and the spread of Turkish monitoring points in the area.
It was not rural Hama only, for Enab Baladi's reporter in rural Idlib has said that the aircraft have targeted the two cities of Ariha and al-Danna with air raids, as well as Jisr al-Shughur, which endured three aerial attacks.
The raids corresponded to the arrival of the sevenths portion of the displaced people of Eastern Ghouta to Qalaat al-Madiq in western Hama.
This military action followed talks about Assad's forces, with a Russian support, intention to launch a military campaign at the western part of Idlib governorate, in a step to control al-Ghab Plain area, starting from western Hama, reaching Jisr al-Shughur.
The features of the military plan of Idlib and rural Hama have not yet been clarified, especially after Assad's forces' finalization of astern Ghouta's file and the many questions addressing their next destination.
According to pro-regime media outlets, military aircraft are targeting the first lines of the confrontations in the northern countryside of Idlib.
Last January, a UN report warned of the deteriorating humanitarian condition of the civilians in both Idlib and Hama countryside, resulting from Assad's forces and their allies' attacks.
The report also stated that the violence and shelling in the area have led to the death of dozens of civilians, in addition to massive displacement waves among people and the destruction of vital facilities.
if you think the article contain wrong information or you have additional details Send Correction