Recreational Activities Target Children in al-Hasakah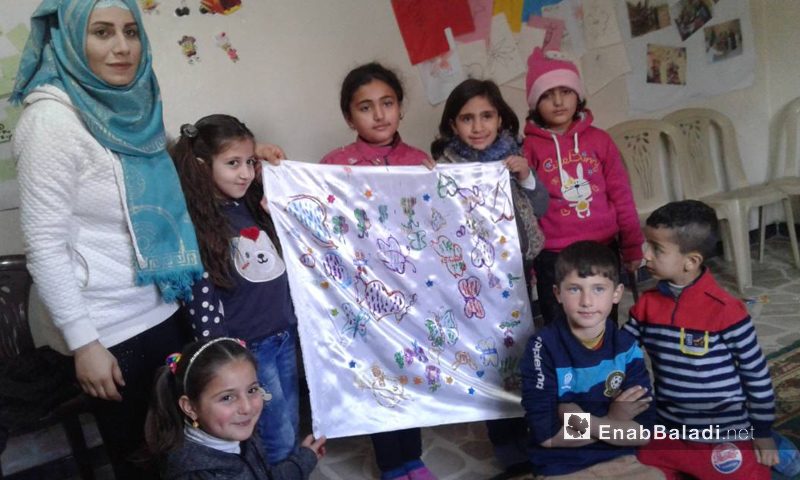 Zaynap Taj Eddin, nine years old girl from al-Hsakah governorate, is learning drawing and handmade crafts, telling Enab Baladi that she made a lot of friends, wishing that "other activities would join us, for we have turned into a family."
"Tomorrow Buds" Project targets the children in al-Salihiyah neighborhood in the city of al-Hasakah, through activities, sports contests, drawing and handmade crafts, since the beginning of February to end early in March.
Thirty male and female children are participating in the activities, including Aras Kamiran Hamo, seven years old, who says that he learned playing chess, and that he will continue at home after the activities end, "I hope that the activities will persist and be repeated."
The Project is run by "Dan" Association for Relief and Development, in cooperation with the "Religious Woman" Foundation, according to Zuhrab Saadi, the Association's Director, who explained that the project will continue for a month, three days a week.
The activities organization aims "to create a positive atmosphere for children in the shadow of the happenings that Syria is witnessing and to establish a safe space, for them, where they can follow their passion, one that might help in directing them correctly away from the war," according to the Association's Director's vision, which he told Enab Baladi about.
Khloud Aboud, the Director of "al-Maraa" Foundation (the Woman), says that the project is about offering "psychological support to children"; she believes that it guarantees the children a space to express themselves and ideas.
The Project also falls within the context of understanding their needs, "to overcome the lack in other projects," according to Abdou.
"Dan" Association was established in 2013, in the city of al-Hasakha; its administration says that the Association resulted from "the shortcomings of the governmental foundations in relation to the services they offer to citizens," and seeking to participate in bridging the gaps and helping the affected people, at the levels of relief and development.
if you think the article contain wrong information or you have additional details Send Correction