"Rampant Looting" as an Independent "Profession" in Deir ez-Zor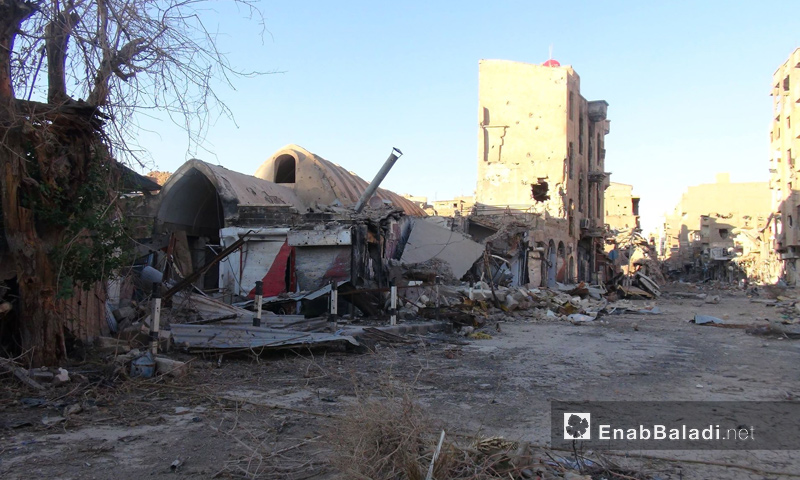 Despite the widespread criticism addressing the robbery of the empty houses in Deir ez-Zor, under a process that came to be called "Taafish," rampant looting, the novel field of work keeps developing and expanding to an extant that it started to take the shape of a private business, without censorship or accountability.
"It is a self-sufficient profession, which has its own conditions, needs, brokers and customers," Abu Hussam, 43 years old, told Enab Naladi, pointing out that the "profession," in a reference to "Taafish," is a trend; it is almost an integral market, with varying commodities and prices that succumb to the regulations of supply and demand, run by shops and entities, cooperating with the "National Defense" Militias in the neighborhoods of al-Jorah and al-Qusor.
A Hard to Deny Reality
The man, whose house was robbed, added that "Taafish during the war is a phenomenon witnessed by all areas," pointing out that "it relates to humans' behavior in the absence of censorship and accountability, for the lacking law that regulates individuals' actions, definitely leads to such practices."
Abu Hussam believes that "these practices are condemned, but they exist and have their own motives," explaining that "the people who are doing this do not belong to a single category, for some have been helped by power and weapon's ownership as a victorious party, who has the right to take the spoils, while others choose this job due to need and poverty."
These are ideas which Abu Ahmad, 61 years old, regards as a reality that is hard to deny, pointing out that "this phenomenon has a specific geographical frame, whether in terms of the commodities' discharge within the crowded neighborhoods, such as al-Jorah and al-Qusor or in relation to getting resources and goods, located in the area that are empty of people, which have been recently controlled by Assad's forces."
The man believes that "the situation is time-related and that it will end with the increasing number of returnees and their occupation of the vacant neighborhoods," explaining that "those who participate in Taafish, rampant looting, are thieves and others belong to the regime's militias, who facilitate for their movement in the neighborhoods, in addition to a few merchants who take the responsibility for promoting the commodities."
Abu Ahmad stresses that the phenomenon depends on "an integral network, each part of which helps the other parts," pointing out that marketing the commodities is "internal in Deir ez-Zur when it comes to home devices that can be re-sold to people, and external when it comes to valuable stolen items, which are transferred to other cities and towns, especially al-Hasakah."
Four Shops Sell the "Stolen Items"
Four shops, in Deir ez-Zur, are active in selling the "stolen items," according to Abu Ahmad, who said that "everybody is criticizing these pack of riff-raff, including a few people and entities, labeled as pro-regime." In a tone of justification, he said that "a few people buy from them due to cheap prices and urgent need."
Merchants offer different excuses for working in this field; however, they do not deny that they are seeking gains and utilizing chaos and the absence of a sufficient portion of the people, as Ali Ramzi, close to these merchants, told Enab Baladi, that "the phenomenon is not new to society and is not related to a certain party."
"Who would hold them accountable? They have money, power, authority and their word is heard," Ali says, believing that "the commodities are neglected and forgotten by their owners, who left them behind, so why to leave them to destruction, instead of benefiting the people," describing selling these items "as recycling with the aim to avoid damage and a source of income to some of the people, who provide cheap commodities for the people who need them."
Even though the items are cheap, some people have objected to selling them, within the frame of the "described robbery."
Abu Gazi, 52 years old, told Enab Baladi that he came back from al-Hasakah to find an empty house, "The scenery of the damaged walls to extract the copper extensions and the electricity cables, shocked me" assuring that "my house was relatively in a good shape, and was partially targeted, but was not damaged."
"They stole my life and all that I have built through it," the man speaks about his situation, surprised as "how the selling processes are conducted in daytime and in front of everyone, and how the empty trucks enter to exit full of commodities, without objection or accountability?"
Late in 2017, the Syrian regime controlled seven neighborhoods in Deir ez-Zor, which suffered the control of the "Islamic State" ISIS, including  Sheikh Yassin, al-Hamidiya, al-Ommal, al-Huwaika, Al-Orrdey, Kanamat, Ali Baik and Masaken Hezeb.
These neighborhoods are still closed in the face of civilians, and those who would like to visit them have to get an official authorization from the Directorate in Deir ez-Zor, according the city's people.
if you think the article contain wrong information or you have additional details Send Correction