Northeast Syria: Empowerment Activities Target Women and Children in 'Qalaat al-Madiq'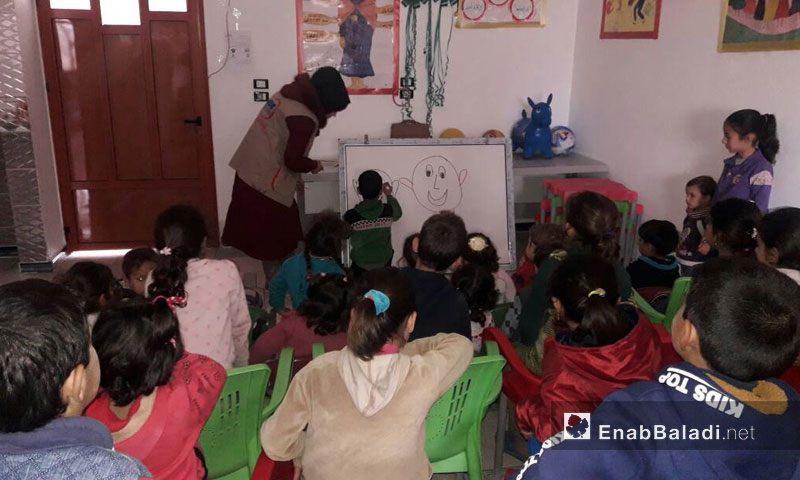 "Maram" Foundation for Relief and Development (MFRD) has launched early in 2018 a series of activities and training programs through "Yasmine 4" center for psychological and social support, targeting women and children, in the Qalaat al-Madiq area, in the western countryside of Hama.
At the end of last March, the Foundation announced a training course, including awareness, habilitation and empowerment sessions for women, in addition to eradication of illiteracy courses and educational and recreational activities for children, according to one of the Foundation's mobile teams' leaders, Khaled Raadon.
The Team Leader told Enab Baladi that children's awareness activities focus on a number of issues, the most prominent of which are awareness about the war remnants and sexual abuse, explaining that the Center includes a consultancy room for the management of individualistic women cases.
The Center's functions are not limited to these activities only, but it also runs lectures that target women outside the center according to Raadon; he pointed out that this applies to children as well, for the Center's activities extend to cover the whole western countryside in both al-Ghab Plain and Shashabo Mountain.
Um Mohammad is one of the women who are directly benefiting from the Center's activities; she informed Enab Baladi, that she visited the center more than once, "I received new information, especially in relation to dealing with my children and husband, under the circumstances we are living today," stressing that she profited of the events and the advice, "the experience was inspiring and I will keep visiting  [the Center] as long as it continues to function."
Ibrahim al-Alaiwee, from Qalaat al-Madiq, said that he is sending his children to the center, pointing out that "he, lately, has noticed a change in their behavior and educational status."
Ibrahim added that he has already visited the center and described it as "well equipped," considering, in his interview with Enab Baladi, that "the Center has undertaken some of his and his wife's responsibilities, and offered the children activities which they themselves could not have provided."
"Maram" Foundation classifies itself as a non-profit organization, based in the United States, being formed by both Syrians and Americans, it seeks to offer relief to the people in need; the first of its activities took place in Atmeh Camp in the northern countryside of Idlib.
The Foundation runs five centers, specialized in empowering women and providing them with psychological and social support, in Atmeh, Killi, Maarrat al-Salaf, Afrin and Kobanî, and offered its services, according to its statistics, to about 12 thousand women and little girls.
if you think the article contain wrong information or you have additional details Send Correction