First Aid Training for Women in Southern Syria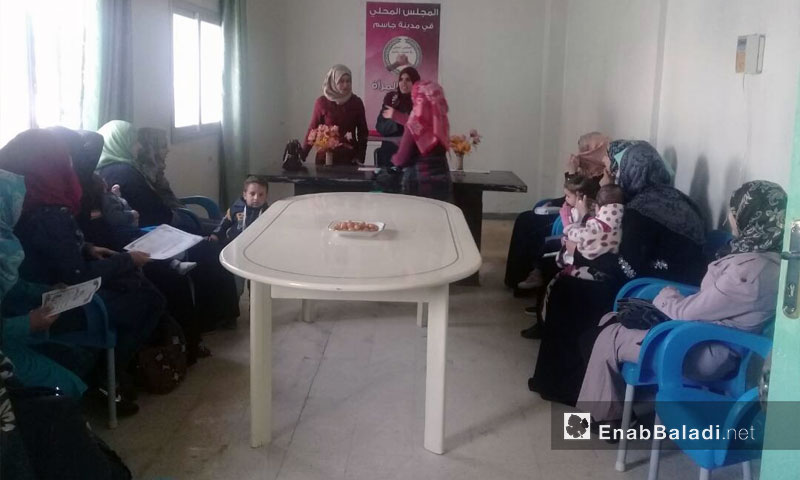 Mrs. Ikbal completed the first aid training course which the city of Jasem, in Rural Daraa, has incubated. She says that she has learned skills that would help her monitor her mother's health conditions, who suffers from a chronical high blood pressure.   
Ikbal, with other 20 women, who attended the training course, have received certificates from the Women Office in the city's local council, which sponsored the training process and provided them with the completion certificates, on Thursday, March 10, according to Mohammad al-Halaki, the Council's Vice-President.
"I offered my sister and her neighbor a serum," adds Ikbal, pointing out that she learned to do this in the course. "The theoretical information and the application contributed to developing our skills, especially those in relation to temporary aid procedures, which can be undertaken in the house," she continued to say.
According to al-Halaki, the course persisted for a month and a half, in a total of eight sessions led by a specialized nurse, delegated from "al-Radwan" Hospital in the area; the course included practices in the field of first aid, within a series of courses that will keep the pace in the upcoming days.
The Council sought to "guarantee that women, in their homes, are able to properly act upon facing any medical emergency," according to its Vice-President, who pointed out that "we expected a little demand on the course, thinking that the office's members and their relatives would be the only attendees."
The course included training on measuring blood pressure and temperature, the best ways to give all types of shots, vein exposure, offering aid to unconscious and drowning patients, dealing with burns, bleeding and fractures, as well as torn ligaments and stitching up wounds.
Al-Halaki knows that most of the courses are offering a repetitive content, but this is needed because "we are in a state of war, and we cannot always expect what would happen," pointing out that "some of the women who participated in the course were in need for an attendance certificate for the jobs which they have already been applying for".
Samar al-Haji, the Head of the Women Office, in an interview with Enab Baladi, said that the courses started on last January 17 and ended on March 18, to be followed with providing the women attendees the certificates.
It has been decided that the Council shall start the next course in about two weeks, according to al-Haji, who estimated the number of the potential attendees as 30 registered women.
if you think the article contain wrong information or you have additional details Send Correction