A Clothes Fair Replaces Relief Packages in Northern Aleppo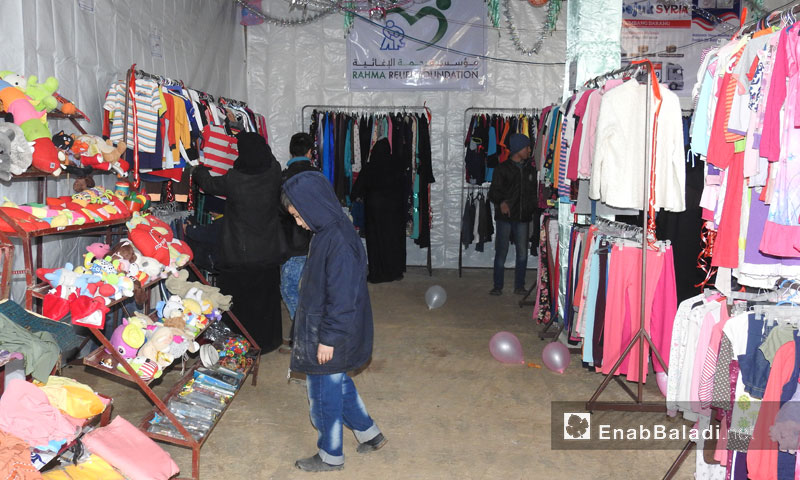 "Rahma" Relief Foundation has launched a clothes fair in Aleppo's northern and western countryside, to benefit the people in need, seeking to break the traditional pattern of relief work, represented by relief packages, which are offered to beneficiaries without touching upon their actual demands.  
The Foundation's Team Director, Abdul Wahab Mohmmad, told Enab Baladi, that the fair was hosted by the town of Turkman Bareh, on Wednesday, 28 of last March, explaining that "the fair guarantees a just process of distribution, in the shadow of the arbitrariness of the situation, under which certain families are not benefiting from the offerings."
The Charity Fair took place in hall that contained clothes of different sizes and types, in addition to children shoes and toys, according to Mohammad who said that the idea came up when a group from Malaysia sent aid to the Syrian people.
"We choose a way to present this aid, so the families would select whatever they need, but gradually," according to the teams' Director, who pointed out that the Foundation invites 25 families every day, "which creates a chance to provide the lacking materials after each fair, following the people taking what suits them."
Each family member gets four pieces of clothing, for the fair targets "the families most in need, orphans, injured and displaced people," according to Mohammad, who pointed out that the preparation process would last for tow weeks.
The Foundation is willing to repeat the fair in other areas, once it finishes the distribution process in the town of Turkman Bareh and the towns around it, to cover other areas with similar fairs, including Azaz, al-Bab, al-Rai and Jarabulus in the next phase.
He also mentioned that the clothes would be transferred through "caravans" to the camps in the northern countryside of Aleppo, and the other difficult-to reach areas.
Um Mohammad, based in Turkman Bareh, said that the idea is better than the bags that she used to receive, pointing out that, more than once she gave up the closes she has been given, "because their sizes did not fit any of her family's members.
"Rahma" Relief Foundation  was established in the United States in mid-March 2014; it includes 14 teams in Syria, Lebanon and Turkey, in addition to its office that has been positioned in Daraa in  November, 2015.
if you think the article contain wrong information or you have additional details Send Correction