The Syrian Journalists Association Condemns the Attack on Ghouta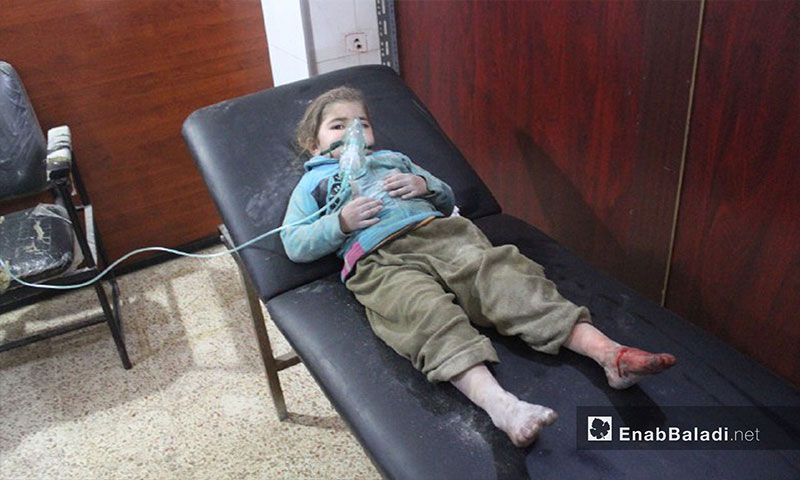 The "Syrian Journalists Association" condemned what is happening in Eastern Ghouta that has been suffering an intense shelling which killed hundreds of civilians.
Yesterday, the Association issued a statement in which it condemned the Syrian regime's massacres against civilians, depending on Russian military aircrafts and foreigner militias.
The neighborhoods of Eastern Ghouta are witnessing an intensified shelling launched by the Syrian-Russian air forces, for the fifth day in a row, which pushed the death toll to 370 civilians and injured 1200 others, according to the  statistics of the United Nations Office for the Coordination of Humanitarian Affairs.
Yesterday, the Security Council concluded its meeting that addresses the latest developments in Eastern Ghouta, without reaching an agreement that provides for a ceasefire. The agreement would be put to the vote today.
Ibrahim Hussian, the Director of the Freedom Center under the Association, told Enab Baladi, today, 23 February, that the Association, as a first step, has communicated with the journalists in Ghouta, residing under shelling and siege, and prepared a data base of their names.
Hussain added that the Association "sped to communicate with the international organizations concerned with the protection of journalists and their affairs and placed it in front of the happenings and addressed them to play their role in imposing pressure on the international dicision-making centers to provide protection for journalists."
In addition to this, the Association communicated with international media outlets and opened communication channels between them and the Ghouta journalists, according to Hussian, who believes that the international public opinion is a method to mobilize solidarity and popular sympathy around the world.
"This is something that must be done if we are planning to create a lobby to pressure the governments which have the ability to intervene and stop the massacres," he pointed out.
The Director of the Freedom Center believes that the Association's statement "is part of its moral duty towards the human causes and rights and its commitment to defend journalists, in particular, and Syrian civilians, in general, in the face of the destruction machine that is hitting the country."
The Association was established, February 2012, by a number of professional journalists, who supported the revolutionary movement in Syria, which, later on, was joined by a number of journalism practitioners in the new media outlets.
It was officially registered in France according to the associations' law, on 6 February 2013, and it has an office in the Turkish city of Gaziantep.
Last November, the Association also became an associate member of the "International Federation of Journalists" (IFJ), after a unanimous decision during the latter's meeting in its executive office in Tunisia.
if you think the article contain wrong information or you have additional details Send Correction