Nine Hospitals Rendered Out of Service in Eastern Ghouta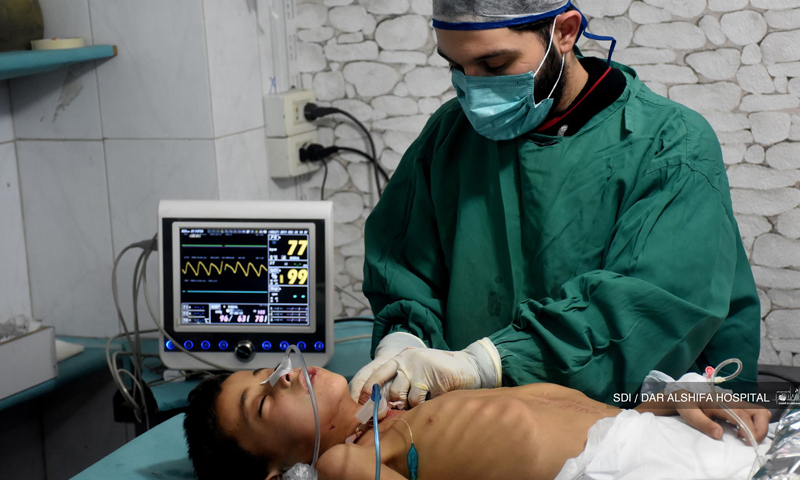 Nine hospitals and physical therapy centers in Estern Ghouta were rendered out of service due to Assad's forces air raids.
Enab Baladi's reporter in Eastern Ghouta, today, 21 February, said that ten vital centers are out of service, including nine hospitals, in addition to the Assad's forces attacks that targeted Civil Defense Centers.
The reporter said that Ibn Al-Nafees Hospital, Jubar Hospital, Arbin Hospital, Zamalka Hospital, Enkaz Rouh Hospital (Saving a Soul), Dar Al Shifa Hospital, al-Anwar Hospital, Al-Kahf Hospital, and the Medical Center in Beit Sawa are out of service, either partially or completely as a result for the direct bombardment.
According to the reporter, these hospitals were receiving the injured and victims of the bombardment that is targeting the area.
On its platforms, the Health Directorate in Damascus and its Countryside stated that Assad's forces bombardment of medical centers is "intentional," which rendered some of them out of service.
The death toll of the Assad's forces massacre of the town of Kafr Batna reached 22 civilians, corresponding to air raids on Arbin, Mesraba and Zamalka.
The United Nations, Yesterday, on 20 February, has denounced the air raids that targeted six hospitals in Eastern Ghouta in two days. In a statement, Panos Moumtzis, the United Nations regional humanitarian coordinator for the Syria crisis, said: "I am appalled and distressed by reports of the horrifying attacks against six hospitals in East Ghouta over the past 48hours, resulting in a number of deaths and injuries."
The statement pointed out that five hospitals were bombarded in al-Marj and Saqba, on Monday, which rendered three of them out of service, while the other two are still functioning partially.
if you think the article contain wrong information or you have additional details Send Correction