In Daraa: Women Demand to Know Where the Detainees Are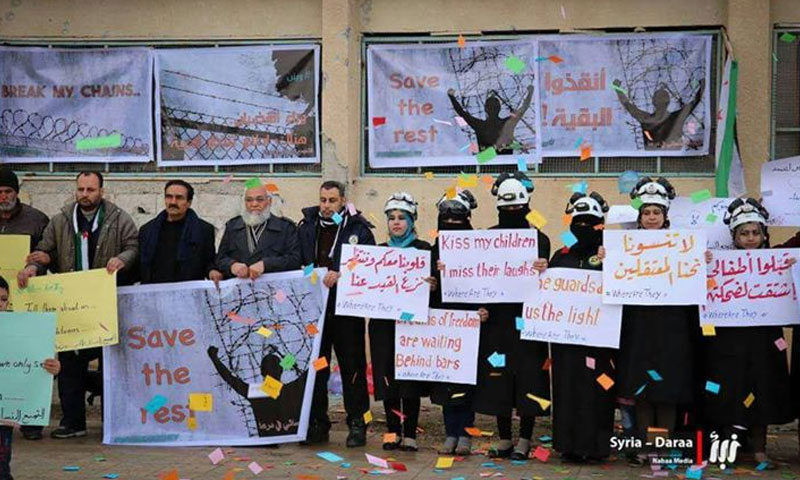 "Free Women Gathering," in Daraa governorate launched a solidarity campaign demanding the release of the detainees and the forcibly disappeared people in the prisons of the Syrian regime.
The campaign, that carried the "Where are They?" slogan, started with holding a vigil in the governorate on Monday, 29 January, with the participation of 300 women, supported by the "Civil Defense" and a number of media personalities, journalists, and activists in the area, in addition to the contribution of members of the "Free Governorate Council."
Sarah al-Hourani, the coordinator of the "Free Women Gathering," told Enab Baladi that the campaign aims to shed light on the detainees' cause, which become "almost absent" despite its humanitarian and social importance, pointing out to the necessity of ending the detainees and their families' suffering, in the shadow of the lacking legal entity that would follow their cause, inside the country and abroad.
In Syria, the detainees' file continues to be a matter of controversy in the international talks and conferences that are seeking a political solution, amidst demands to neutralize the cause and distance it from political settlements.
Lacking official numbers, the Syrian Network for Human Rights documented the names of 117 thousand detainees; however, estimates point out that the number exceeds the 215 thousand detainees, 99% of whom is in the Syrian regime's prisons.
Despite the weak progress of the detainees' file in Syria, the Syrian opposition talked about a "positive" development during the eight version of the "Astana" Talks, last December, by forming an action group, who has the responsibility of the detainees' release. The group would include representatives of the guarantor countries only, namely Turkey, Russia and Iran.
Syrian human rights organizations, nonetheless, have showed concern for the track that the detainees' file is taking in the "Astana" Talks, after the action group has been formed without defining a clear mechanism.
About the "Where are They?" campaign, Sarah al-Hourani said that the results are positive and continued to say: "We managed to attract Daraa governorate's attention to the detainees' cause, for the campaign has found a great resonance among the governorate's people."
The campaign targeted the two cities of Nawa and Bosra, under the Syrian opposition; the participants held signs with the names and photos of some of the detainees, as well as slogans that appealed to human rights, humanitarian organizations and entities that are concerned with putting pressure on the Syrian regime to release detainees and forcibly disappeared and inform their families of their whereabouts.
The former president of the opposition's delegation to Astana, Ahamad Beri have previously told Enab Baladi that the opposition have already made an agreement with Russia and UN to be given a map of the prisons, "only after the formation of a real committee, so the regime would not exploit it and move the prisoners [to other places,]" stressing the refusal to hand over their names, "fearing that the regime might assassinate them."
if you think the article contain wrong information or you have additional details Send Correction