Two Cities Embrace Photos of Aleppo's Pain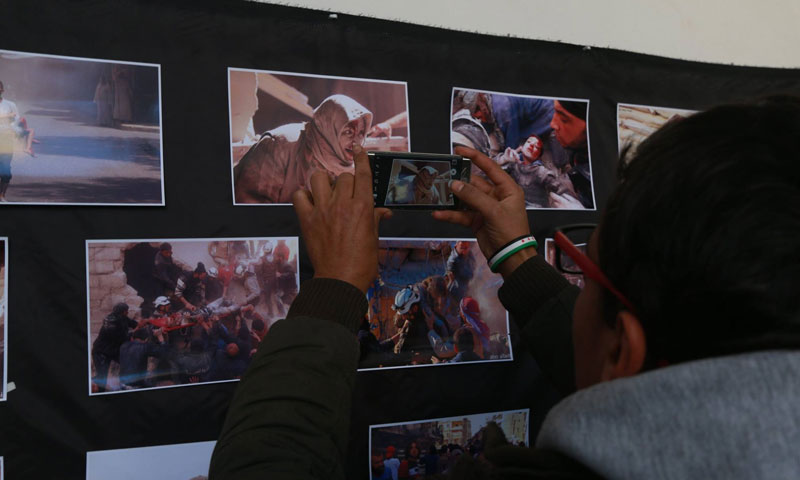 "In Aleppo, we suffered, so did the stones." This is how Rami Mustafa, displaced from the city of Aleppo, described a photography exhibition in Azaz city, considering it as "a manifestation of what we went through and a documentation of an era that witnessed unprecedented violence."
A group of Aleppian journalists presented photos of the tragedy of Aleppo's eastern neighbourhoods in conjunction with the first anniversary of the people's forced displacement in two exhibitions organized in Azaz, in Aleppo's northern countryside, and Atarib, in the west of the governorate, on 23 and 25 of December.
The exhibition presented 85 photos selected by a committee under "The Journalists of Aleppo and Its Countryside Forum".  About 18 journalists participated in the event according to what the Forum's Chief Executive Officer Ismail al-Raj has told Enab Baladi.
Al-Raj explained that the photos illustrate the siege and the displacement inside the city of Aleppo; they cover the period from February 2016 until the "fall of the city." He pointed out that the exhibition was supposed to take place on the same day in the two cities; however, some procedures delayed it for two days in Azaz.
Enab Baladi interviewed some of the exhibition's participants, which is the first of its kind in the area. Official figures from Aleppo governorate's local councils, the Health Directorate and the "Civil Defense" attended the exhibition. Despite the lacking resources, the participants insisted on presenting their photos, through cooperation, and considered it as a success.
According to the attendee, Abdul Rahman Yazan, "the exhibition unfolded the tragedy of Aleppo, whose people have been displaced by force in front of the whole world, which did not make a single move."
"Aleppo will always be in our hearts until we return to it," he said.
About the exhibited photos, Mohammad Ahmad, from Aleppo's countryside, said that "They are not enough to show the magnitude of the tragedy experienced by the people of the eastern neighbourhoods." He called for organizing similar exhibitions "because they remind us of the neighbourhoods that we love and the people we have lost in Aleppo."
In his interview with Enab Baladi, as a final thing, Mohammad said that, "the photos might be ordinary; however, most of them hold indescribable pain and suffering."
On December 22, 2016, the last convoys left the besieged neighborhoods of Aleppo. The eastern part of the city was left empty of everything but the wishes of the return that hanged on the walls.
The number of the displaced people from Aleppo's eastern neighborhoods to its western countryside reached 1052 families while other 5552 families arrived in the northern countryside. Some international organizations have described this journey of displacement as "the largest forced displacement in Syria."
if you think the article contain wrong information or you have additional details Send Correction