Israeli Drones Foil Attack by ISIS-Linked Militants West of Daraa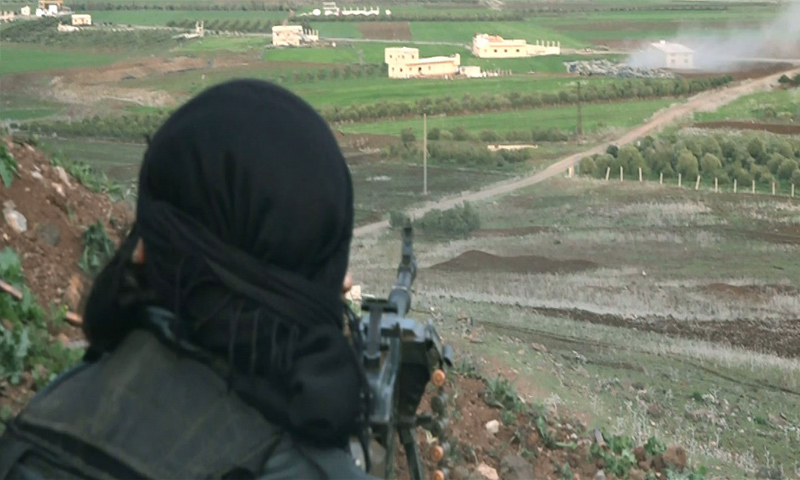 Khalid bin al-Walid Army militants fled after advancing in the southern village of Jabiliya, Enab Baladi writes
Israeli drones foiled on Tuesday night an attack by jihadists from the Khalid bin al-Walid Army on rebel group positions in western Daraa.
Enab Baladi's correspondent in Daraa on Wednesday said that the Khalid Army, which has pledged allegiance to the Islamic State (ISIS) group, attacked rebel positions before midnight in the areas of Jabiliya and Al-Bakar west of Daraa.
He said that Free Syrian Army groups had sent a support convoy from the city of Nawa, but that it fell into an ambush after it entered the village of Jabiliya, leading to a number of its fighters becoming surrounded.
A military source told Enab Baladi that an Israeli drone took part in repelling the attack and struck Khalid Army positions with two rockets, without confirmation of damage.
The Khalid Army has carried out hit and run battles in the Yarmouk Basin area west of Daraa, while the opposition has not been able to advance at its expense during the last few months because of its reliance on ambushes.
FSA groups have given the Khalid Army members a month to defect or surrender themselves starting from Dec. 30, 2017.
The new Khalid Army operation scenario is similar to the blitz carried out on Jan. 4, in which the group captured opposition points which it then pulled out of hours later.
According to the correspondent, the Khalid Army's control lasted about two hours before it began to withdraw from the positions it had captured.
The group took control of most towns of the Yarmouk Basin after it launched a heavy attack last February during which it took a number of towns and hills, most prominently Saham al-Jawlan, Taseel and Tell al-Jamoua.
Its fighters are deployed in the basin area and in villages on the border with the occupied Golan Heights, in addition to a number of areas on the border with Jordan.
In statistics published by ISIS' news agency Amaq, the Khalid Army killed around 350 FSA fighters in the Daraa countryside during 2017.
---
This article was translated and edited by The Syrian Observer. Responsibility for the information and views set out in this article lies entirely with the author.
if you think the article contain wrong information or you have additional details Send Correction