Idlib Rebel Groups Unite Under New Joint Operations Room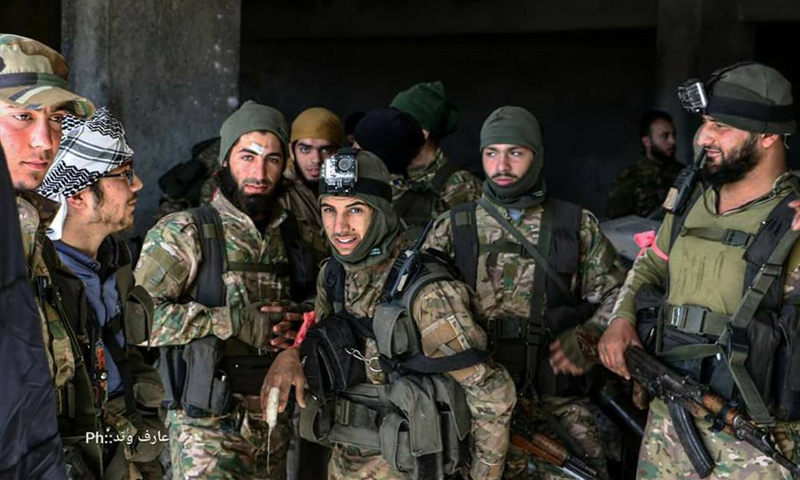 New operations room will include northern Syria's biggest rebel groups, including Hay'at Tahrir al-Sham and Ahrar al-Sham, Enab Baladi writes
The largest rebel groups in northern Syria have united under a joint operations room in the southern Idleb countryside to confront attempts by President Bashar al-Assad's forces to advance after the Syrian army reached the outskirts of the city of Al-Tamanah.
Informed sources told Enab Baladi on Monday that the new room was composed of Hay'at Tahrir al-Sham (HTS), Ahrar al-Sham, Al-Hizb al-Turkestani, Jund al-Mulaham, Jaish al-Ahrar, Jaish al-Azza, Jaish al-Nasr, Jaish Idleb al-Hurr and the Nour al-Din al-Zanki Movement.
The sources told Enab Baladi that the operations room was formed amid arrangements by the groups to implement and manage the fighting on the ground, indicating that "meetings are currently underway with regards to this issue."
The groups had not officially announced the join operations room at the time of this report's preparation. Although sources in Jaish al-Ahrar and Ahrar al-Sham confirmed the formation of the operations room amid rumors that it would be announced shortly.
The development coincides with major advances by Assad's forces and allied militias in the southern Idleb countryside in an attempt to reach the Abu al-Duhur Air Base.
These forces stormed the eastern Hama countryside, taking over strategic villages, most prominently Abu Dali, Al-Hamdaniya, Tell Maraq, Al-Dajaj, and up to the village of Tal Sakik, to break the rebel groups' defensive line south of Idleb and threaten the city of Murak and the town of Al-Tamanah.
The official spokesman for the Jaish al-Azza group, Mustafa Marati, a participant in the fighting, told Enab Baladi that the opposition was searching for a new strategy and declined to go into more detail.
Previously HTS, Ahrar al-Sham, Faylaq al-Sham, Ajnad al-Sham (Hama), Al-Hizb al-Turkestani, Jaish al-Sunna and others worked within the Jaish al-Fatah alliance.
In previous interviews with Enab Baladi, commanders in the groups of northern Syria confirmed the plan to form a new joint room had not achieved any progress.
The Assad forces fighting toward the city of Idleb are backed by Iranian support on the ground alongside local militias and Al-Nimr Forces, led by the regime general Suheil al-Hassan, with Russian air cover.
---
This article was translated and edited by The Syrian Observer. Responsibility for the information and views set out in this article lies entirely with the author.
if you think the article contain wrong information or you have additional details Send Correction