Assad Regime Promotes Return of 1,500 Families to Wreckage of Zabadani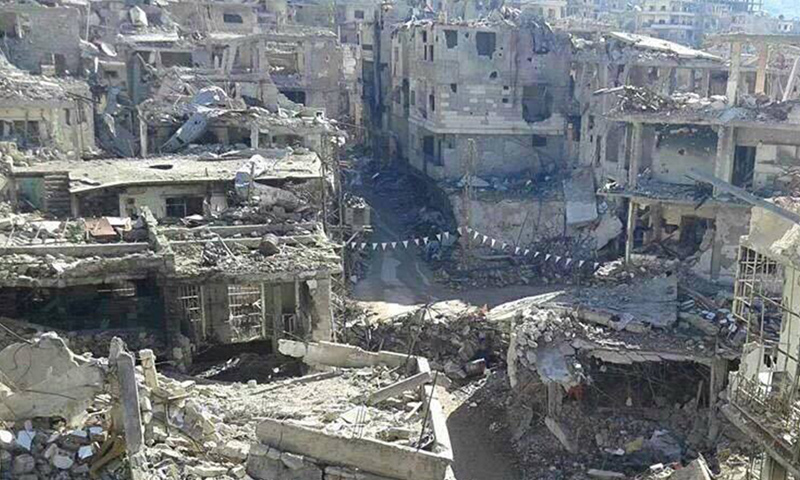 Locals dispute the number of purported returned residents, saying the actual figure is lower, Enab Baladi reports
The regime of President Bashar al-Assad announced that around 1,500 families have returned to the city of Zabadani in the northwestern Damascus countryside.
Speaking to Enab Baladi, residents inside the city on Thursday said that some families had returned but that it had not reached that number.
The sources added that the city of Zabadani was nearly destroyed and that the residential buildings there are not fit to live in. Only a few families have returned to the homes that have not been bombed and are fit for living, they said. The sources explained that the city's Al-Shalah district is currently inhabited by families of the Lebanese Hezbollah group, which is fighting alongside the Assad regime forces against the Syrian opposition.
The government-run Tishreen newspaper a few days ago quoted the governor of the Damascus countryside, Alaa Munir Ibrahim, as saying that "1,500 families have returned to the city as a result of the intensification of work on repairing the streets, roads, electricity networks, phone lines and sanitation since the Syrian army took control."
The last Syrian opposition fighters left Zabadani in April 2017 as part of an agreement between the Jaish al-Fatah and Iran, alongside the expulsion of regime fighters and residents from the towns of Kefraya and Foua in the Idleb countryside in the framework of the "five cities" deal.
Activists described the deal as blatant "demographic displacement" as it called for the total emptying of Kefraya and Foua and for all opposition fighters and some residents to leave Zabadani, Madaya and Baqin.
The governor of the Damascus countryside said that contracts had been signed with more than one entity to complete the work which started more than seven months ago to clear rubble, dirt and the debris of destruction.
---
This article was translated and edited by The Syrian Observer. Responsibility for the information and views set out in this article lies entirely with the author.
if you think the article contain wrong information or you have additional details Send Correction