Rahaf .. Lost Everything and Did Not Give Up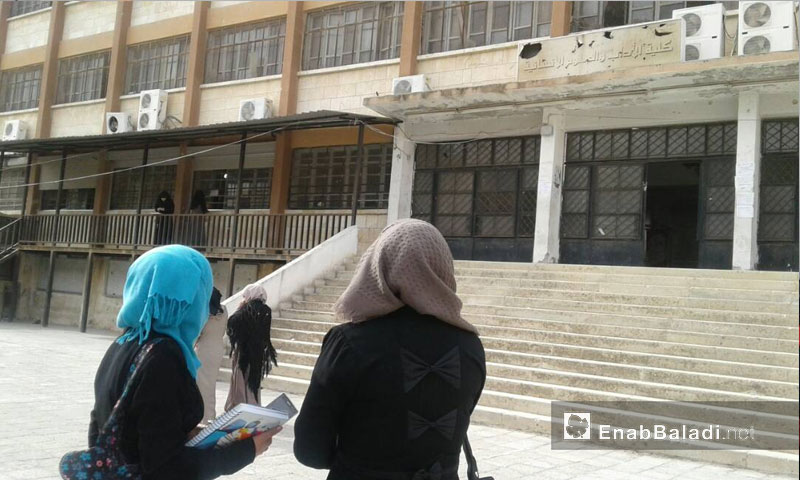 "Suddenly, I lost everything. My husband was arrested and our home was shattered," she said.
This is how Rahaf, 27 years old, expressed her feelings of pain mixed with hope.
This how she started her story, a well-known story in Jabal Zawiya (Mount Zāwiya) in rural Idlib.
Rahaf sought refuge in her parents' house. She was suffering the pain of a Cesaerian section.
"Horror" cost Rahaf her breast milk. However, she managed to pull herself together and stood for the challenges to take care of her son and study at Idlib's University.
The young woman decided to continue studying after she stopped in her second year at "Free Aleppo University," where she used to study English Literature.
Since she knows English, Rahaf started a course for elementary school students. "I gathered my pain and hid it under the pillow to get back to it at night. I also decided to open another door for hope for my child's sake," she said. 
Rahaf is teaching ten students; she pointed out that she gets a nominal tuition in return, one that is enough to help her and her son.  
Rahaf's husband was arrested when she was 21 years old. They have been together for three years only, which were sufficient for Rahaf.  She also said that people kept bothering her. However, she challenged them with a firm determination.
Because she is a teacher, a student and a mother, she wakes up early to feed her son, Omar, and take him to school. Then she meets her students. Although she goes to university only to take her exams, her GPA is never below 80 percent. 
Rahaf buried her innocence in the space between an ambiguous future and a cruel past. Today, she lives in the hope of her husband's return, while her son grows up accompanied by her dream of him becoming a man worthy of his father's name.
if you think the article contain wrong information or you have additional details Send Correction