Life Goes Back to Dawar al-Mehrab Traffic Circle in Idlib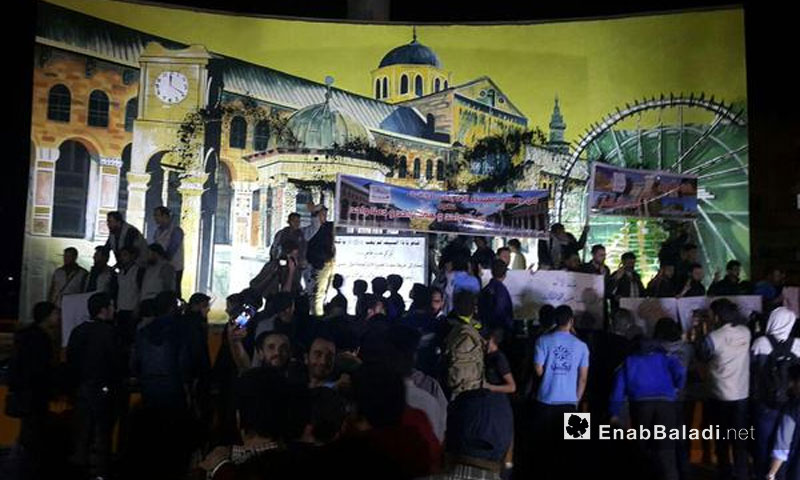 A painting, representing images of the Syrian culture, was placed in a space of about 80 square meters, in Dawar al-Mehrab traffic circle, in the city of Idlib. The dawn of Monday, 30 November, seemed different to the area's people for Rakeen Organization has inaugurated the most prominent traffic circle in the entrance of Idlib.
Norias of Hama, the Clock of Idlib and the Umayyad Mosque in Damascus, occupied a colored area of the painting, which was marred by blackness by unknown people described by the area's people as saboteurs. Despite the blackness, the painting brought life back to the area through its beautiful images after the traffic circle has been damaged many times by the shelling in the past a few years.
According to Bassam Fakhoury, one of the city's residents, those who destroyed the painting did not achieve their end. "The black spray could not suppress the colors of the painting which changed the features of the area."
According to Abdul Karim al-Nabhan, placing the painting in the traffic circle, which is one of Idlib's main entrances, was a symbolic act that aimed to bring together all the Syrian cities in a single place.
"The opening ceremony did not require such a media marketing because it led to some accidents which tried to sabotage the project," he told Enab Baladi.
Rakeen Organization's rehabilitation of the traffic circle is a part of a series of developmental projects in Idlib, according to Bader Humaidan, the director of the organization's office inside Syria.
He said that the painting represents the Syrian cities "from Damascus's Jasmine to the clock around which thousands of people gathered during the revolution. This shows the integration of the cities, unity, and harmony between them. This is a reminder to the rebels."
The opening ceremony was held in the presence of the Civil Defense and dozens of local organizations and residents. This is not the first event of its kind in the city for in May the city's clock was rehabilitated in cooperation between Rakeen Organization and the local council in Idlib.
Rakeen has been active for more than two and a half years, running various psychological support activities and other enterprises in Idlib Governorate.
if you think the article contain wrong information or you have additional details Send Correction