Karate Training for Children amidst the Destruction West of Aleppo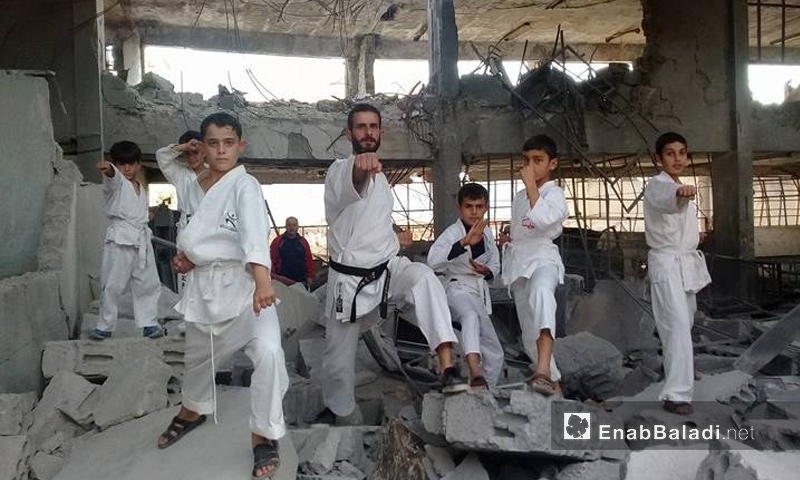 The Karate Technical Committee in Aleppo began providing children with activities and training amidst the destruction caused by the shelling, in an attempt to resist the status quo.
The Committee carries out these activities in the areas which have been destroyed by shelling, especially in the town of Atarib. The process started at the beginning of this week, targeting the children of the 'Syrian Sports Child' Project, which began its third course in the region, three months ago.
The project includes four sports centers with more than 300 male and female children, according to a former interview with Aurwa Kanawati, spokesperson of the Syrian General Committee of Sports and Youth, under which the Technical Committee functions.
Coach Ahmed Badawi, who is in charge of training the children, told Enab Baladi that he took the step after the repeated demands from the children. "They were enthusiastic about the idea of training in the destroyed places because they strengthen their spirit of challenge and determination," he said.
According to Badawi, children went through harsh circumstances in the western neighborhoods of Aleppo. "Since then we have been determined to continue our journey and train the children despite all the circumstances, especially after the destruction of our center due to the shelling there," he said.
The coach seeks to "break the fear barrier and to prove to the children that the sport which they love will continue despite the destruction."
To Enab Baladi, Layth, a twelve years old boy, who gets a training in the project, said that his karate outfit was the first thing he got out from Aleppo. "I am in love with sports, and I feel strong and enthusiastic when I train," he said.
Since 1995, Badawi has been a holder of the Black Belt Dan and has been a former coach of Al-Ittihad Sports Club of Aleppo. He has also won the title of Champion of the Republic more than once.
He currently heads the Karate Technical Committee in Aleppo and is a trainer in the 'Syrian Sports Child Project' for the second year.
The Syrian General Committee of Sports and Youth was established in March 2014. It consists of 12 sports unions and four executive committees in the governorates of Daraa, Aleppo, Idlib and Damascus' countryside after the departure of the fifth committee from the Al-Wa'er neighborhood in Homs. In addition to this, the Committee includes 140 sport clubs inside and outside Syria.
The 'Syrian Sports Child' Project includes several sports, most notably gymnastics, football, taekwondo, karate, wrestling, boxing, kickboxing and judo.  A number of Syrian experienced athletes take the responsibility for training and supervision in all the centers.
if you think the article contain wrong information or you have additional details Send Correction