Boys or Little Men.. in the Camps Syrian Children Pay the Price of War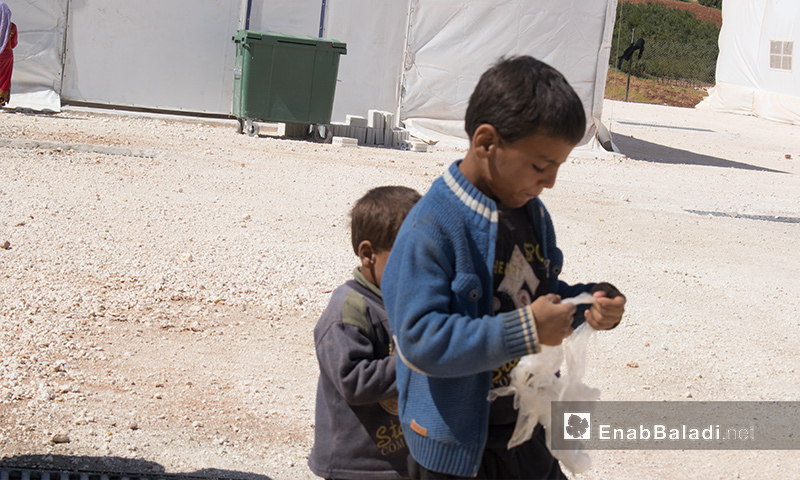 The story of Mohammed, a ten years old boy, based in Atmeh camp in northern Idlib, spread to give him a voice. The words he says are beyond his age; they express the pain stifling his childhood and tell his story, one story among dozens which pass unnoticed every day.
More than six million Syrian children live a life of poverty and homelessness, according to UNICEF's latest statistics.
"For the happiness of my mother and the peace of mind of my father's wife, the shadow of the tree became my blanket, the dust my mattress and the rock my pillow," says Mohammed to Enab Baladi.
His parents got a divorce, and the camp's tent became his shelter during the night.
Mohammad roams the place searching for something to eat; he waits at the doors of the mosques or the opening of other tents.
"I wait for someone to pity me and grant me a morsel of bread," says Mohammad.
Losing his family house under the aerial shelling, Mohammad was displaced from Idlib's western countryside. Then, he arrived with his family to Atmeh camp.
He says that he used to wake up to the voices of his father and mother, who kept fighting. "They started to have a lot of problems until my mother got divorced. Today, I am a homeless swinging between two tents, in two separate camps."
Every single day, at dawn, the child wakes up to leave his father's tent, the father who married another woman. "My father prevented me from going into the tent. But, he allowed me to sleep in it. So not to bother my aunt, I get out of the tent while my eyes are still sleepy. I try to reach the tree here."
Mohammad continues to speak saying that everyone in the camp now knows his story. "People sympathize with me; they give me a loaf of bread or a glass of water," he says.
After the divorce, Mohammad's mother moved into another camp in the region, the thing which prevented him from visiting her a lot. There, tangled in homelessness, the child waits to change his life, stolen by displacement.
A victim at an early age as his, Mohammad waits to break through towards life.
The Little Man
Ammar, a fourteen years old boy, from the town of Kafr Sajna in Idlib's southern countryside, carries flour sacks every day. In Atemh camp, he tries to make a living to support himself and his family, his old father, sick mother and younger siblings.
"For the sake of my family, [I gave up] my childhood to become a man who can provide food for his family through his weary forehead."
With a tired face, Ammar tells the story of his displacement. "Before the airplanes bombed our house, we used to have a good life. When we reached the camp, my father started working in the bakery. He left that work because it was too difficult."
For 10 hours a day, until three in the afternoon, the child works in his father's place. Tired of carrying these sacks, he says, "I know that this work might affect my growth, but I do not have a way out. My father cannot carry a single gram."
Every day, in his sleep, he dreams of changing his life. "In the meantime, that is impossible," says Ammar.
In the cemeteries, near their parents' graves, or under the rubbles of their destroyed schools, many Syrian children buried their childhood.
Many others suffer from the negative effects of their parents' separation due to social difficulties in a war-blighted country.
Others are forced to work. They need to make a living within a reality that threatens dozens of children like Mohammad and Ammar.
if you think the article contain wrong information or you have additional details Send Correction