Autism in Syria: Children Made Lonelier by War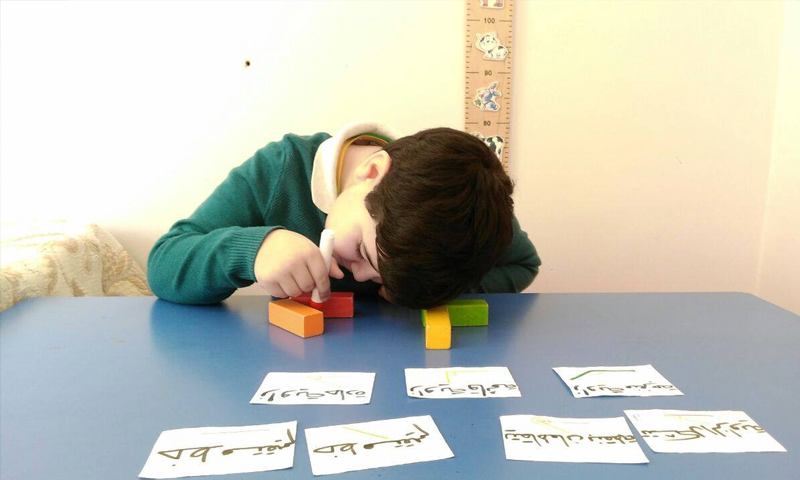 They do not care about the surrounding for they have their own precious world. They accept the way they live by and do not prefer to mix or communicate with people, even the familiar ones. They have their own routine, which they refuse to break.

Hell, for them, lies in changes, the change of circumstances, places or environment.

What would happen if they were forced to surrender all that they are used to?

How is it then, if they were forced to leave their house due to war and the difficulties of living?
Specific statistics about the numbers of Syrian children with autism do not actually exist. However, the World Health Organization (WHO) estimates indicate that, around the world, one in 160 children has an autism spectrum disorder (ASD).
Autism is a developmental disorder which happens due to a certain damage to the central nervous system (CNS). It might lead to isolation, developmental delays, regression of linguistic and social skills and the difficulty to adapt to the surrounding.
Saad .. An Inspiring Experience
Saad is a Syrian child whose family was forced to leave the country due to the war. They moved to Turkey, which was a turning point in his life.
Saad was two years and four months old when he moved with his family to live in Istanbul. There, he started to change after he was a social child. In the beginning, his parents did not take these changes seriously and attributed the alterations to the effect of the sudden migration.
When he became three years old, Saad suddenly and totally stopped talking. He stopped answering people. This was a scary indicator for his family, which attempted hard to help him talk and interact again.
His parents also tried to integrate him with other Syrian children of the same age. However, these attempts were not a success; but actually, they made the situation a lot worse. Saad disliked other children, feared crowdedness and ceased responding to changes.
Saad's mother, a graduate of the sociology department, who has a sufficient experience in the field of education, told Enab Baladi about her son's story, saying: "We started consulting doctors in Turkey and through the internet. Their views contradicted about Saad's situation until we visited a professor in paediatric neurology in a Turkish university. The professor confirmed that Saad has autism."
"I went through a phase of denial while my family was trying to help Saad. I began to panic while I saw him grow up in front of me, in a manner that did not resemble the way other children grew up," she said.
About the treatment, Saad's mother mentioned a deep suffering. She referred to the absence of specialized Arab centers and the lack of experienced Arab doctors. In addition to this, she spoke of some people describing them as "imposters" who forged their medical certificates and alleged to have experience; for these people, the whole issue is only a trade.
Concerning the Turkish centers, she said that they were highly qualified, but language was an obstacle for doctors are supposed to deal with a child with autism using his or her mother language.
A Specialized Center
These challenges inspired Saad's family to open "Ana Bekher" (I Am Fine) Specialized Center. Individuals started the project after a number of volunteers received a special five months training with a specialized expert over the internet.
The training included 90 hours of theoretical instruction, accompanied by practical tests and applications on Saad's case.
About the services which the center provides, Saad's mother said: "In the center, we receive cases in tow phases. The first phase is free of charge and lasts for three months, through which we study each child's case separately and then prepare a specific plan according to which we start working. The second phase is paid. Here, the child is subjected to a total evaluation in cooperation with the parents to understand his or her motor and learning development. Then, the child gets classes according to a weekly educational program or three sessions a week. Each child has a specific teacher. The educational program focuses on teaching the child the skills of imitation to enable him or her manage their issues on their own."
"Today in the center, there are children who are between 5 and 10 years old. They receive education, rehabilitation, and training. We are also ready to receive children who are between 3 and 13 years old. As for the staff, it consists of teachers and graduates from the department of education and psychology," she added.
Saad's mother mentions some of the greatest achievements wich other mothers managed to make developing the skills of their children who have autism. Some of these children managed to continue studying and finished their elementary schooling in Syria despite all the difficulties hindering them. Some of these children joined scouts and are participating in various activities.
Saad recently completed the first-grade curriculum including Arabic language courses, except mathematics, and started with the second-grade curriculum.
He also developed his expressive skills and gained the ability to use full sentences to express himself and his needs. Saad has a great talent for he has the ability to draw using a computer; he develops this ability on a daily basis because it is his tool to present his world and express himself and feelings.
What Causes Autism?
Scientific reports show that there are a number of factors which tend to increase the possibility of a child's development of autism; these factors include, environment and genes which might affect the growth of the brain in the early stages of a child's life.
According to WHO, it is difficult to diagnose autism in children before they are 12 months old. However, this disorder can be diagnosed in a general manner when the child is two years old. Among the prominent features that help to diagnose autism is delay or temporary decline in the child's linguistic and social skills, in addition to the repetition of stereotypical patterns in his or her behavior.
Symptoms of Autism
Dr. Mudar Habbar explained to Enab Baladi that although each case has its own uniqueness, there are features regarding social, linguistic and behavioral skills that begin to appear in children with autism in general, including:
– Children with autism prefer to be alone. They dislike mixing or playing with other children and do not interact with their surroundings.
– They have speech difficulties. Sometimes, they might not be able to say a certain word or sentence which they used to be familiar with.
– They might have restricted repetitive behavior, repeated movements or sounds.
– They do not resort to eye contact.
– They do not like being hugged, refuse physical contact and shrink into themselves.
What about the Cure?
Dr. Habbar pointed out that there is no permanent cure but occasional ones, and the autistic patient needs to be cared for throughout his or her life.
In addition to the treatment of speech and language disorders and educational treatment, there are special diets based on wheat products and depending mainly on eating dates and nuts, as well as drug-based treatments and nutritional supplements taken in special cases which show violent behavior or hyperactivity.
He stressed that the best treatment that a child with autism can get is through specialized centers, which are lacking in Syria, especially under the circumstances of war.
Autism Treatment Centers in Idlib Governorate
In Idlib governorate in northern Syrian, there are two centers specialized in the treatment of autism in the towns of Ariha and Hazazin, but their services are now stopped, according to what doctor Imad Bitar told Enab Baladi.
Bitar explained that the service in Idleb is currently limited to psychiatric clinics for cases that need occasional medical treatment, with the service of diagnosis and offering parents a psychological education about the disorder, and cooperating with them to show them how to contain and deal with their child.
On the services in northern Syria, he pointed out that there are special clinics for psychiatrists in the northern countryside of Idlib, Saraqib and Atmeh. They also provide services in the mental health center in Sarmada and the psychiatric clinics in "Karama 1" and "Karama 2" camps.
"There are no new statistics on autism, but according to the World Health Organization, autism is doubling in times of war," he said.
He explained that the conditions of war, fear, constant mobility and repeated displacement directly affect the victims of autism, as well as the scarcity of services provided to them, as most of the people, that were interested in providing these services, are now outside the country.
Dr. Bitar mentioned that starting last year, in collaboration with the World Health Organization (WHO), a training program has been carried out under  "bridging the gap" program. Training includes providing mental health services and dealing with some neurological disorders and addictions.
There are almost 50 trained doctors practicing mental health services according to  "bridging the gap" program. Here, there are parts related to the so-called developmental disorders, including the autism spectrum disorder (ASD).
These services focus on the psychological education of the parents and training them to take care of their children so that they are able to train their children to meet their daily needs, such as eating, dressing up and keeping clean, in an independent manner.
In addition to this, the program includes special services for teachers and school principals who will have the responsibility of raising the awareness of the importance of integrating these children into public education and how fundamental it is for them to continue studying to the maximum level which their cases allow. Part of the awareness training is directed to teachers and it is about how they are supposed to deal with children in the classroom, and that they must give the students more attention, in addition to the necessity to use positive behavioral reinforcement methods.
Dr. Bitar stressed the importance of parents caring for themselves also not only for their children and that the care for children should not be at the expense of privacy, activities and relationships of the parents because if the child's situation goes for a long time the parents' energy might drain.
He also stressed the importance of not focusing on the child who has the disorder to neglect the typical children for negligence might cause the deterioration of a typical child's growth if compared to his or her peers.
A Care Center for People with Autism in Daraa Governorate's Countryside
In the south of Syria, we contacted with "Special Education for Speech, Hearing and Intellectual Disorders" Center, located in the town of Maaraba in the eastern countryside of the governorate.
Ahmad Al-Homsi, director of the Center, reported that five cases of autism were received this year, ranging from five to ten years old, both male and female.
He pointed out that the center depends on the education of children with autism through motor activities, sports and entertainment, as well as providing psychological support services.
He mentioned that many cases responded due to the cooperation between the center's staff and the parents.
The center provides services to deaf and mute people, as well as cases with speech, hearing and intellectual disorders. There was a development in many of the center's cases who have been sent to public schools to integrate with their classmates of the same age.
if you think the article contain wrong information or you have additional details Send Correction