Wisdom House Center.. from Educating Women to Engaging them in Labor Market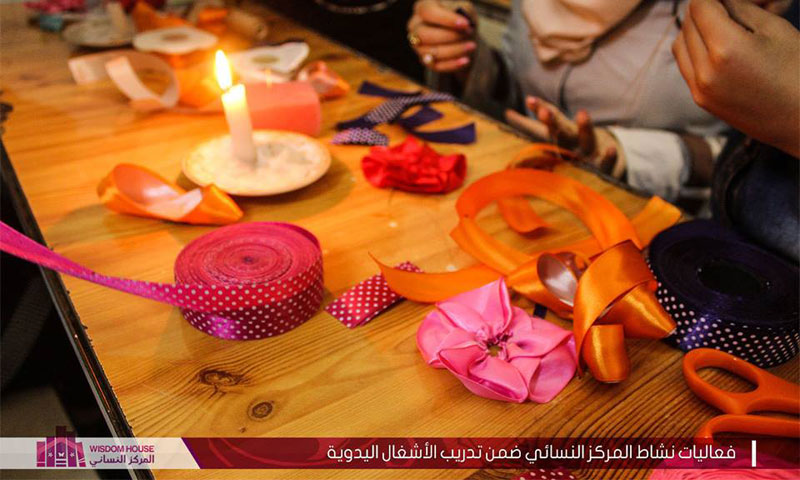 "The biggest problem I face due to illiteracy is the inability to communicate with my friends on social media," Sarah Bayronie, a girl teenager, tells Enab Baladi.
"I suffered from illiteracy because of the war that kept me out of school in my first years. I followed several illiteracy eradication courses in Idlib and Aleppo, but most of them were useless," added the girl displaced from the city of Hama to that of Idlib.
"I followed a course in the Wisdom House last year," the 16 years old girl said. "I benefited this time and improved my reading and writing skills."
"I have not yet reached the required level. I need a minute to read a particular sentence. My writing is understood by readers, but mostly it is not correct and lacks letters."
She concludes telling Enab Baladi that "Wisdom House gave me the basis to train myself and to practice more to completely eradicate illiteracy. Today, I am not as I used to be."
Wisdom House Opens Three Doors for Women
Wisdom House Center in the city of Ariha, in Idlib Governorate, did not stop at the level of healing its own wounds and overcoming the damage caused by last year's bombardment but also directed its efforts towards a weak segment of the Syrian society, which suffered the largest portion of war's effects on a physical, psychological and a financial level. The Center targets Syrian women.
Nour Halaq, a member of the Board of Directors at the Wisdom House, told Enab Baladi that the Center works with women on three axes: Professional, medical and scientific.
With regard to the professional aspect, the Center offers women training courses in different fields, such as hairdressing, knitting, wool work, beadwork, and other handicrafts.
Relating to the professional aspect, the Center, said Halaq, seeks to engage women in labor market. When the training period ends, the Center provides the trainees with the tools needed to start their own work. After that, Wisdom House plays another role, which is marketing for women's production and finding ways to merchandise it. The financial income goes to the concerned women.
Concerning the medical training, Halaq says, it includes nursing, first aid, and physiotherapy – only one course has been provided in that field.  A nurse, with 24 years of experience, provided women with that training. The course's duration was divided as follows: Three months of theoretical training and other three for a practical one.
About the scientific courses, he added, they start from illiteracy eradication courses to business and project administration and all the related monitoring and evaluation skills that a manager is supposed to have. In addition to these, there are intensive courses in the fields of human development, psychological support and childcare.
From Wisdom House to Labor Market
The last project carried out by the Center was in cooperation with Research Analysis Knowledge Organization (ARK). The project tackled five areas:  Wool and bead-work, hairdressing, handicrafts, physiotherapy, and project management. It targeted 150 women.
Halaq said that that most of the women who have been trained in physiotherapy are employed, while others who have trained in hairdressing have been given tools to work and started their own projects from their homes.
Concerning project management, some of the trained women are employed at Wisdom House Center while others are employed in other centers. However, this opportunity was not available to all women, as recruitment required good examination results, according to Halaq.
The women, who have been trained in handicrafts, have also established their own workshop, selling their products to wholesalers who market them in other towns outside Ariha.
He explains that the Center mainly targets the women who lost their breadwinner and who have children to look after, as well as poor women. The Center tries to teach them things which they can use to get an income.
The Echoes of Wisdom House in Ariha City
Despite the fact that the Center is devoting a large part of its energy to support women in a 'conservative' society suffering under war, it was largely received in the city of Ariha especially that the people are facing a critical situation relating to education. The center was established to bridge this educational gap.
The Center worked to cover the scientific needs of women and did not present itself as a school, so it was able to target the various segments of women, especially those over school age.
According to Halaq, proposing educational services was not enough for the Center, which took the responsibility for conducting a huge media campaign in the city to raise people's awareness about the necessity of educating women and supporting their participation in the labor market. The campaign depended on the language of Islam and presented many examples of the life of women at the time of the Prophet Mohammad, peace be upon him, and how they worked in trade; this pattern helped the people accept the Center's idea.
Wisdom House's activities are not limited to supporting women for it also includes a youth center and a research and studies department, which conducts surveys, similar to the current project in the city of Ariha. The project offers an integral survey about the requirements of each of the city's houses.
Extraordinary Psychological Support
"To be frank, we used to have many concerns in our hearts, but we discovered that they are meaningless. You are the one to choose your way of life. Your happiness is at your hand and your misery is at your hand, so you choose the way," Mrs. Sahar Haj Hassan says to Enab Baladi.
Sahar, 50 years old, adds "I have attended a number  of Wisdom House's psychological support lectures. In the beginning, I attended them for fun and because I had a lot of spare time. However, after a few lectures, my view of life changed."
Mrs. Sahar, displaced from Aleppo's southern countryside to Ariha, explains that "The most important thing that I have learned is how to deal with people, in case someone has wronged you or you have misjudged others. […] I learned how to apologize and how to accept an apology."
Nour Halaq explains that psychological support is generally done through education, training and capacity building. "Any poor family which learns a way to get a job and an income is actually supported."
As for women, who have obvious war injuries, such as amputation, deformity or disability, they work with a female psychiatrist in a separate and a private manner.
if you think the article contain wrong information or you have additional details Send Correction