Emerging Center for Deaf and Mute People East of Daraa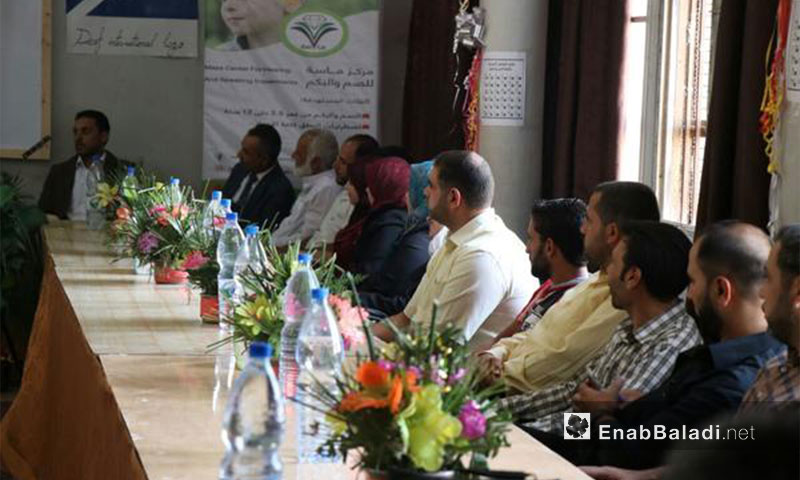 On Sunday (September 24), Massa, the Syrian Organization for Social Welfare, opened a center for deaf and mute people in Daraa's western countryside. The center offers its services to children with hearing and speech impairments managed by a number of specialists in the City of Nawa.
According to Enab Baladi's survey in the city of Daraa, the targeted people have been largely neglected. Although they have been a part of the programs conducted by organizations which offered them psychological support; the programs' activities were traditional and did not address their difficulties.
The center has been established in June. Since then, the management has been working hard to prepare its rooms and halls in a manner that corresponds to the educational process specified for the targeted people, according to Mudar Ammarin, the Project Manager in Masa.
The center consists of four rooms. These are divided as follows: two rooms for deaf and mute people, one for people with speech disorders, and the final is reserved for the entertainment of children aged three to 12.  There are 40 children in the center today.
There are about 200 deaf and mute children in the city of Nawa, according to the organization's statistics, which cover both the city's people and the displaced people living in it. Massa Organization made a plan to help all these people get benefit from the new center over a period of six months.
The project's manager defined its goal; the center, following programs made by specialists, seeks to rehabilitate children who have such disorders "to help them integrate into society and fulfill their needs properly via a number of special activities which allow them to communicate with healthy people".
The center provides member children with free transportation, treatment, and supplies during their stay, according to Ammarin, who referred to futuristic plans that aim to expand the center's boundaries to cover the eastern part of Daraa and the city of Quneitra.
Massa was established in March 2012 as a medical organization, and then it expanded to work in the field of relief covering most of Daraa. The organization also implemented a number of service-oriented projects in Nawa and enhanced trainees in the areas of husbanding, time management and governance.
if you think the article contain wrong information or you have additional details Send Correction