Assassinations of Saudi Leaders in Al-Haya'a
Tahrir Al-Sham Shrinks to its First Core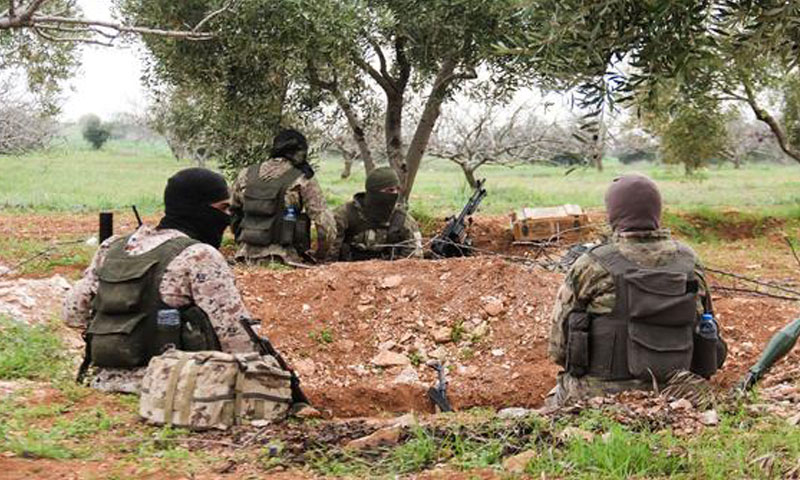 Enab Baladi – Exclusive
A wave of splits stormed Hay'at Tahrir al-Sham and brought it back to its first core, known as al-Nusra front, as a direct response to a series of recent audio leaks that ridiculed the legalists working in it. It showed that a single personal vision is managing all political and military matters, namely that of General Military Commander Abu Mohammed al-Julani.
The latest split was that of Ahrar al-Sham, one the largest military factions in Hay'at Tahrir al-Sham, following the split of Saudi lawmakers Abdullah al-Muhaysini and Muslih al Ulyani.
Jaysh al-Ahrar attributed its split to the decision of the Shura Council, pointing out that "it agreed to form a judicial committee in order to consider the rights of the two sides."
Eight months since formation
On January 28, the formation of Tahrir al-Sham, led by Hashim al-Shaykh (Abu Jaber) was announced. It includes a majority from al-Nusra Front, along with Nour al-Din al-Zenki Movement and Jaysh al-Ahrar.
Ahrar al-Sham split came two months after Nour al-Din al-Zenki Movement announced its secession from al-Haya'a on July 20.
Al-Zenki attributed its secession to "the non-arbitration of Sharia, which we did our best to implement through bypassing the Fatwa Committee in al-Haya'a and issuing a statement about Sharia Council without the knowledge of most of its members."
According to Enab Baladi, which monitored jihadist accounts on Twitter, some have said that Ahrar al-Sham has suspended its work within al-Haya'a for months and announced its secession in these last days.
However, others attributed this separation to "escaping the targeting spectre," amid talks about a military operation against Hay'at Tahrir al-Sham in Idlib, which is internationally classified on the "lists of terrorism."
Other pro-Hay'at Tahrir al-Sham accounts rejected the secessions, saying that "Al-Haya'a is the only remaining fighting group in al-Sham, despite some errors and injustices, but it is combining both good and bad."
The splits are attributed to what is described as "the leadership surpassing the Sharia committees of al-Haya'a," in addition to the ensuing audio leaks, which was described by legalists as "an explicit undermining of Sharia campaign."
Al-Haya'a is still retaining its central strength, represented by al-Nusra Army, which was the spearhead in its recent battles against factions such as Ahrar al-Sham, according to Enab Baladi sources.
When al-Nusra Front disengaged from al-Qaeda and changed its name to "Fatah al-Sham," some analysts were optimistic about this shift, while observers expected this move to be only "formal" as the faction continued to pursue the same approach and sought to form a "princedom" in the region headed by al-Julani."
The splits were accompanied by accusing al-Julani of coordinating with Russia and getting close to Iran, at a time when regional states are shaping the fate of Idlib, amid uncertainty about the future of the province.
According to analysts, Hay'at Tahrir al-Sham did not succeed in changing the equation in northern Syria, the way it was intended to when it was formed. Instead, reality in that region got worse.
Assassinations reach Saudi current
In the context of developments that Hay'at Tahrir al-Sham is facing in the past few days, two Saudi legalists were assassinated, namely, preacher Suraqa al-Makki and former legalist of Jund al-Aqsa faction Abu Muhammad al-Jazrawi (nicknamed al-Hijazi), without specifying who is responsible.
Social media activists stated that "a series of assassinations in al-Haya'a are targeting Saudi leaders and are believed to be carried out by the Egyptian – Jordanian team."
In an interview with the researcher in Islamist groups' affairs, Hassan al-Deghaim said in an intellectual approach that takfiri organizations usually eliminate each other. This process has been observed in Afghanistan and Iraq, because they rely on political blasphemy."
He added to Enab Baladi that "if any person disagrees with the other's opinion, it is considered as a problem of allegiance and offensiveness against Islam and the person will be accused of apostasy after getting a document from the most legitimate person who approves of the elimination process."
He explained that "there is a so-called killing for interest. Any person the Emir or the leader of the group believes to be a potential source of danger in the future is considered as a threat to the benefit of Muslims, which has nothing to do with Sharia, but are things taken from prisons and some books, such as those of Abu Qatada and the Book of Al Jami Fi Talab Al Ilm Al Sharif."
As for assassinations, he declared that "it is not surprising that there are some wings in Jund al-Aqsa, or even ISIS, within Hayat Tahrir al-Sham's rows and these assassinations can be retaliation operations."
if you think the article contain wrong information or you have additional details Send Correction