Escaping Heaven
Al-Assad's Supporters … What are they Doing in Europe?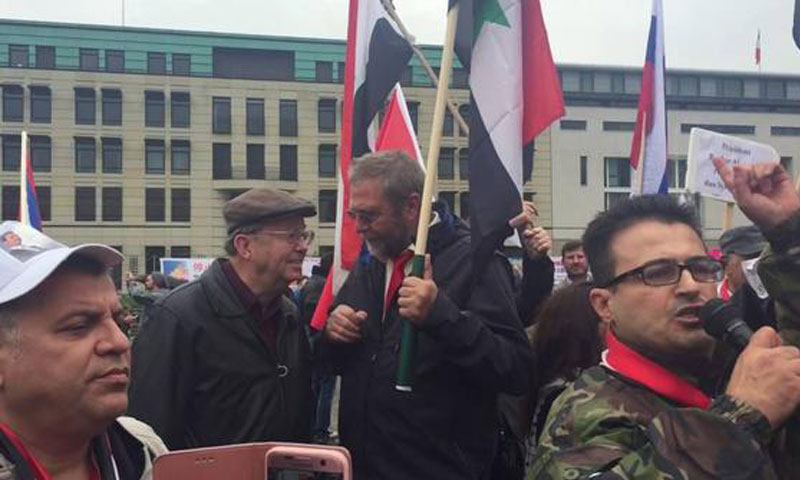 "Only Allah, Syria and Bashar," the well-known chant of Al-Assad supporters is resonating not in his hometown, Qardaha, and not in Damascus the capital, but rather in Frankfurt by Syrian refugees who still show their support for the person who deported them and still insisting on his legitimacy and his justice, as well as the brutality of the armed bangs and the way they kill Syrians.
"We recognize the supporters among the refugees and we also distinguish the Shabiha," said the 34-year-old man Mr. Yassin. The Syrian refugee living in Germany added: "Shabiha have money and most of them came here to invest their money. They immigrated to Europe only in search of wealth as they do not face any political or security problem in the regime-controlled regions which have better conditions than the rest of the regions. Their immigration to Europe is only prompted by economic factors."
Heaven or Hell?
As an interpreter who volunteered to help new refugees, Yassin meets many Syrian refugees in Germany. "As an interpreter, I can only translate what they literally say, but as a person and an opponent I cannot understand why would a supporter leave Syria? If the regime is right and guarantees a satisfactory standard of living, why would they escape heaven? In fact, being a refugee reflects how bad the situation is in the country and, whether the supporter likes it or not, the fact that he immigrated refers to the legitimacy of our demands during the protests we did in Syria, when his president called us insinuators and germs," he said.
One of the cases Yassin helped with translation was a family that clearly showed its support for the regime. He asserts: "This family is from Jaramana and I helped them translating what they described as the harm of the armed factions they endured. The father used to isolate himself from other refugees. He did not want to contact them at all and as soon as he was granted asylum, he quickly hired a lawyer to reunite his family. He also bought a car and opened a food stall. His financial condition is very good as the German lady I work for told me that they do not need any help, given their well-being. This is only a sample of Al-Assad's supporters who live in Europe."
Criminals or Refugees?
The years 2014 and 2015 were hit by a wave of criticism against the European policy in receiving refugees. These policies focused on scrutiny and on preventing the arrival of the so-called "terrorists." However, many of those called Shabiha reached Europe and obtained asylum. They were also able to reunite their relatives.
This urged civil activists to launch campaigns on social media websites, among which is the page "Criminals, not Refugees." This page monitored accounts Al-Assad's supporters who were involved in military actions and published pictures of them holding weapons, abusing dead bodies and chanting the name of Al-Assad.
However, these calls did not exceed the limits of the virtual space. A simple search on Google is enough to have a look at the crimes for which Syrian refugees are being judged in Germany. These charges are usually related to joining extremist groups, or committing crimes among the armed opposition factions.
Sham Air
After the 27-year-old IT engineer Manal immigrated to Sweden, she was surprised by the level of hatred shown by her pro-Assad friend while she was talking to her: "She sarcastically asked me: 'So, how's everything? Do you regret travelling or not yet?' She went on to talk about Sham air and water that she would never leave. After a while, I learnt from her Facebook account that she is doing her MA in Italy, not caring about Sham air, as soon as she got the first scholarship outside Syria."
Manal added that her friend did not hesitate to ask her about the requirements for applying for a PhD in Germany. "When I asked her about the date she will return to Germany, she literally said 'whoever is paid in Euros will never get back to the 50,000 Syrian Pounds.' After that, she asked me about PhD scholarships in Germany."
The Supporter is "Spoiled"
With helplessness and anger caused by the difficulties she faces in obtaining a passport for her son, the 30-year-old Syrian refugee in Germany, Umm Karam, describes Al-Assad's supporters as spoiled in all the countries. "The supporter does not face the difficulties we face and they can go back to Syria whenever they want. They can renew their passports and frequent the regime administration without fear of being abused. All the countries welcome them like any other Syrian and they are welcomed better than any other Syrian, because they got Al-Assad's satisfaction and the ease of obtaining their papers and ratifying them," she said.
Recalling the example of one of her classmates in college, Umm Karam says: "one of my classmates belongs a group that supports the regime. She comes to university by car and she never failed any subject. Of course, she was able to get a good job in Syrian television after graduating from the media department. During the revolution years, she was not affected as she was living in the high-end area of Damascus. She recently wrote on Facebook that she will travel soon to Germany after she was engaged to a doctor living there. This is how a pro-regime person gets the benefits of Al-Sham grapes and Europe dates together."
They Visit Syria without Problems
A German press article reported that Syrian and Iraqi refugees with legal rights have spent their summer vacation in Syria and Iraq.
The article, published by the German newspaper Welt in August 2017, stated that the Department of Foreigners in Baden-Württemberg recorded at least 100 refugees who travelled many times to their countries since 2014.
The German law punishes refugees who have the legal protection if they visit their countries before the end of the conflict. This leads to withdrawing the asylum from them.
Syrian refugees in Germany often visit relatively stable areas in Syria without disclosing that to the refugee office, especially since they enter Syrian by land from Beirut.
"When a recognized refugee travels to his country of origin in order to spend a holiday despite the harassment or threat, the legal protection of this foreigner is questioned," said Ulyan Fortenberger, secretary-general of Baden-Württemberg Ministry of Interior.
The article, published by the German newspaper, was based on a survey conducted by the Ministry of Interior in Baden-Württemberg. The survey revealed that the aim of spending the holidays in their countries is either visiting family and friends or a work visit.
An unnamed official spokesman told Welt that "undeclared high figures" should be expected for such cases, especially for refugees going to Syria and Iraq which suffer from poor security conditions.
Germany has received more than 1.2 million refugees since late 2015, mostly from Syria and Iraq.
if you think the article contain wrong information or you have additional details Send Correction