Syrian Comedy Revolution on YouTube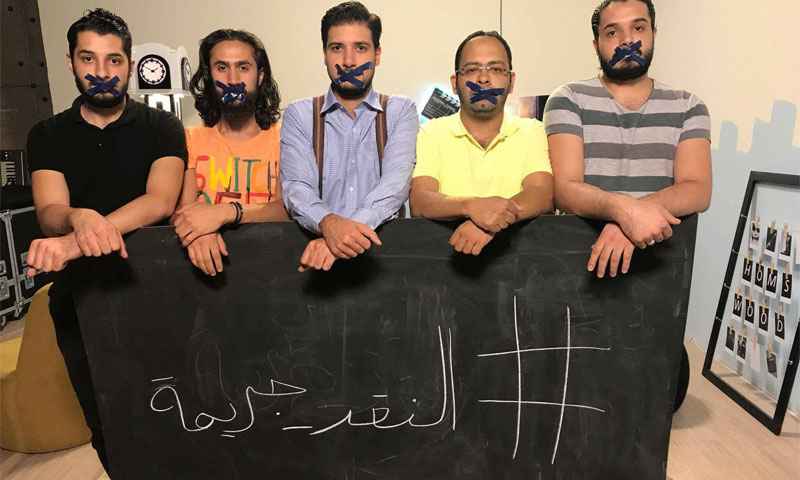 In 2005, three young programmers set up a website for video dating, but two events changed this website's future.
The first event was when one of the founders could not find a video of a singer on the Internet, and the other when the three programmers could not share a video with each other, because the email service does not allow them to do so.
Therefore, they decided to make some adjustments to their website to meet their needs, but these adjustments led to the rise of a website that has been used by two-thirds of Internet users around the world, "YouTube".
It seems that these three young people have common needs with a large number of people. Thus, their website has become helpful for many psychological studies centers, which rely on analysis of the video content and the number of viewers, to determine their audience's style and needs.
Not only that, but the name of the website has become associated with events that politically and socially shook the world, it has been mostly associated with the Arab Spring revolutions, which relied on YouTube as a platform to document events, and on Facebook and Twitter to share them, they were called the YouTube revolutions.
YouTube's first uses in Syria
With no doubt, YouTube's first uses in Syria were mostly based on uploading and watching the demonstrations, and the subsequent clashes and battles.
However, at the climax of the peaceful movement of the revolution, which used mockery in many of its demonstrations, either from the symbols of the regime or the international community, and later from the opposition itself, videos that make fun of the daily life of the revolutionaries themselves have emerged, in what might be called dark comedy.
Irony has then become the most effective weapon which the Syrians relied on because it has the advantage of creating a distance which separates the cynical person and the subject of ridicule, and disassociate him from it.
This is how the Syrians ridiculed the politics, war operations, terrorist organizations such as ISIS, and they even ridiculed the structure of the social system and the Syrians' popular memory.
They reject everything, and cannot accept how things turned out for them, so they always make fun of it.
Space for life
Social media have prevented television and traditional media outlets from being the only means of content creating. For the first time, the public began to produce its own content and interact with it, and nothing controls them rather than general principles that are mostly based on human rights, such as not practicing human trafficking, not inciting violence and hatred, or child abuse, etc.
In fact, this technological revolution has not only surpassed the power of media, it has rather targeted what is a little bit far beyond it and completely stands behind it, the political power.
In countries such as the Middle East, the technological revolution has have really targeted brutal police regimes. Thus, there is a heavy presence of Syrians in social media as an example. They even make fun of it. It is rarely to find a young man in Europe or Turkey, who is a way from the Syrian regime's authority, or he is not a content creator on YouTube.
For the first time, the Syrians use their bodies and their voices to express their identity, not as tools in the official regime's records, photographs of the personal identities that are required in the checkpoints, or shaky voices that deny the accusations against them or confess what the executioners want.
After the young people lost their streets in which they used to make protests, and used to express themselves through them, they headed towards a wider space.
These conclusions may explain why there is a lot of technically poor content in the Syrian YouTube. They express themselves, whether they were good people or not, they have the right to be what they want, not what they should be. Thus, YouTube is not their artistic platform, but their space for life.
 Comedy as common national content
Despite the abundance of cynical Syrian political content on YouTube, and if we accept the validity of the assumption that the political situation is linked to the tendency towards ridicule, there is a clear reluctance to go in depth of the battle between the regime and the opposition that is evident in the content young Syrians produce.
Content creators explain that this situation is either because they themselves are lost, they are unable to present a content that satisfies them on the subject, or because viewers themselves are reluctant to watch political content, despite the fact that, for years, they have been on top of the political headlines in the media around the world.
Most of them have a common general principle. We are here only to laugh and have fun. We even question the value of the content we create. Our message is summed up through the same mean, to laugh, and to make this laughter a neutral space that brings us together. This is all what we want.
This is what can be deduced through watching videos of many Syrian YouTubers, and through what they write about themselves and their projects. This is how comedy is reflected in its ingenuity and inferiority, as a common national content between the Syrians.
 Financial earnings
YouTube, which shook the television channels and revolutionized the way viewers watch videos, has not only intellectual goals, but, it also quickly attracted advertisers, and the website's users have been seeing ads inside the videos.
Thus, content creators have been competing to attract viewers, which makes them get more ads that help them gain financial earnings.
This does not necessarily mean that good content attracts more viewers. The rule applies to both sides, the very bad content creator, or the brilliant innovative content creator. Both of them, because they are extremely opposite to each other, raise the audience's curiosity, according to Syrian young people who are engaged in attracting advertisers.
Technical specialists in Enab Baladi add that YouTube supports rich content, not good content. Most of those who have made a lot of money today because of the number of views, have a long history of failure and poor content, but they have been always publishing rich content.
Technical specialists explain that attracting the largest number of viewers over a certain period of time raises profits. This, of course, varies from one country to another. Each view's value differs with its geographic location. For example, Syrian content creators do not earn financial profit from Syrian viewers.
In addition, the highest financial profit goes to those who provide reviews of technological tools, such as mobile phones, cameras, etc. In this way, they establish an independent relationship with the advertiser and receive net profits which are not shared with YouTube.
Syrian Experiences
In the one of its most important sides, the power of the content depends on the presenter's personality, through his body language, his style of speech, and his innovation of a verbal intro identity that distinguishes him from others.
Homswood
The presenter of the first Syrian and Arab drama critic show, Abdul Rahman Dandashi, always starts his videos with the phrase "I wish every Wednesday you are okay." He used his origins, which belong to the city of Homs, and its associated popular jokes about its people's madness and joke that says that, every Wednesday, they celebrate "The holiday of crazy people", to create an intimate connection between him and the viewer's memory.
https://youtu.be/KXDtMwH7uXw
Dandashi's experience started in 2015 through his show that is called Homswood. Today, he is considered one of the most famous Syrian show presenters on YouTube, despite the criticism he has always received due to repetition and lack of renewal, according to some of his subscribers.
In addition, many production companies' complaints because of his criticism of the series they produce, which led to the removal of many of his videos because of the complaints.
Wissam Ticket
There were also prominent experiences that tried to involve the audience in the content creation, which made them more like an interactive scene, as did Wissam Fakhreddin, who managed to turn the viewers' comments into comic sketches, to show the viewer what he was thinking about in both sound and video.
Fakhreddin's show, entitled Wissam Ticket, is a sign of the Syrians' readiness to give up everything in return for the plane ticket that will save them from death, but in this case, a plane ticket towards laughter.
Fakhreddin's first channel was closed because of complaints about cybercrime (the use of the Internet to harm others), which appeared to be a sarcastic joke. This indicates that this content should be directed and should be accompanied with a message, especially as its experience now reaches more than a million viewers.
Amr Maskoun
Amr Maskoun, who is under the age of 20, has also a unique experience in recreating stereotypical family relationships, with individual effort and simple tools, where he performs all the roles by his own.
Amr Maskoun has been widely famous after MBC channel shared one of his videos, during which he talked about the news of Taim Hasan and Wafaa Al-Kilani's marriage, which has been circulating through social media websites for a long time.
This experience relied on a competitor such as television to confirm its success, and today, it is rarely to find a video of Maskoun with less than one million views.
Hila Ghazal
22-year-old Haile Ghazal entered the YouTube world through trademarks, most of her content is based on presenting a comedy story to promote a particular product.
Hila's channel has reached more than four million subscribers. She started to produce sarcastic shows, each episode has no less than two million views.
The United Nations has chosen her as the Ambassador of the 2016 Change Program, since her content also seeks to empower women and strengthen family ties.
It is certain that these experiences do not have a general consensus. Many viewers say it they are not even sarcastic. However, the interaction and the debates they raise, prove that they succeeded in entering the lives of young Syrians.
From another side, there were experiments that raised the audience's anger, such as Adam Kadoura's experience, which uploaded many videos that many subscribers considered offensive to women because of infringing their freedom, threatening or belittling them, in addition to giving himself the right to generalize on the Syrian society, especially the male-female relationship, from which he has dropped all values of honor according to standards most Syrians have not heard about, such as the girl shakes hands with her cousin.
From the beginning of the revolution, the regime's arena has also witnessed some experiences, it tried to emulate the peaceful activities against it, and allowed some young people to create their content, such as Mahmoud al-Hamash, who relied on the style of verbal comedy and speech manipulation that dates back to centuries ago. The young man emerged from competition and entered the studios of Sama channel.
Comedy Revolution
Today, there are more than four billion YouTube users around the world, which means half of the planet's population. This means its role in shaping the personality cannot be ignored, along with the family and school.
But it certainly has the highest level in formulating the public opinion, as it provides content in audio and video that cast doubt on certainty.
With the Syrians' dispersion in the world, a platform like YouTube has become an important space for them to meet, and to influence and guide them, meaning that it is a big responsibility to be content creator on this platform.
Even though comedy is the most popular content on which the Syrians rely, it certainly carries many messages, as it is a tool to cast away falsehood, reveal the contradiction between the media discourse and what is happening on the ground, according to some philosophers.
Given the overlapping cultures of the refugee communities and the resulting disparities and differences, the Syrians seem to find fertile ground to work on as comedians like they want, and thus to contribute to easing the conflict between refugees and the hosting countries.
Comedy through YouTube is a revolutionary tool too, and cannot be presented without a goal or message, otherwise it would become a circus-like distraction tool. Such behaviors have often harmed the safety of individuals and groups of refugees, as we have seen recently after the circulation of videos that claim to be "funny" in which a Syrian young man is trying to flirt with Turkish girls as a way to "prove his manhood."
if you think the article contain wrong information or you have additional details Send Correction