Bassel Safadi.. Algorithms Genius whom Al-Assad Turned into a mere "Number"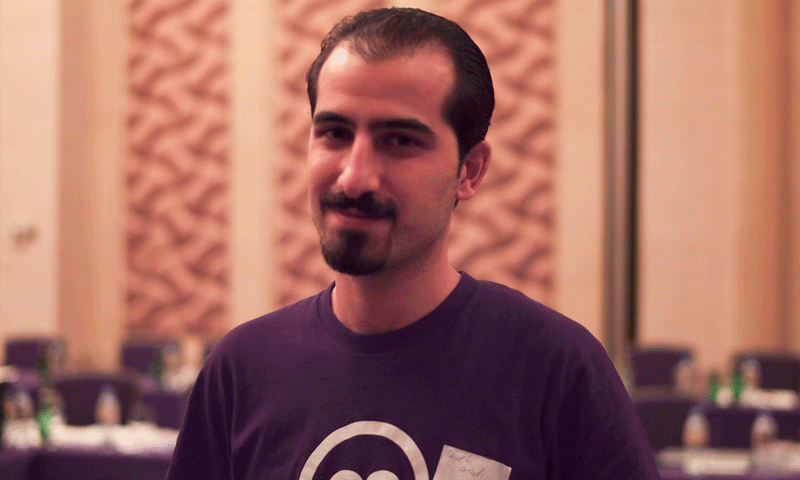 Bassel ended up as a mere number in the victims records of Al-Assad's prisons after six years of anxiety and waiting, and a memory full of digital and revolutionary achievements. He was the symbol of a peaceful revolution, which remained hung on the walls, just like the wedding's white dress that his wife never wore.
Bassel Khartabil Safadi was born to Palestinian parents on the land of Damascus. He had double passion and identity. This duality pushed him to be among the vanguard ranks of those joining the Syrian revolution in 2011, defending it with his own weapons, complex algorithms and a three-dimensional camera.
The major Internet software companies, such as Firefox, Wikipedia and Fabricators, admitted that he was not only a good information engineer, but also a genius who transformed technology to creativity and invested in human development. These characteristics seemed to be enough for the Syrian regime to arrest him without declaring his charges.
Although this arrest took place in late 2011, at the beginning of the Syrian revolution, Bassel has left a significant impact on the revolutionary activists until now. He is considered to be the first to document the ancient city of Palmyra, which was destroyed later, with a three-dimensional camera.
Bassel, born in 1981, was a member of both the Free Mozilla Community and the Creative Commons Foundation. He worked on investing his technical expertise in order to help promoting freedom of expression and access to information via Internet.
During the first four years of his arrest, his fiancée, Nora Ghazi, had great hopes for his release, especially because the communication with him while his was at Adra Prison was possible. His lawyer was making great efforts to see his client. However, 2015 cut off the thread between the glimmering hope and disappointment.
Bassel was taken to an unknown place and it was not possible to get any information about him. His parents and fiancée did not know that this period marked the end of his life and put him in front of the fate he had never wanted to escape. In reality, he was preparing himself for his destiny even before being arrested, as he tweeted that "those who are in great danger do not leave their country," according to the American magazine "Foreign Policy."
Bassel caught the attention of a number of international social, media and technical institutions. When he was detained, he was worthy of the prizes offered by these institutions, as "Foreign Policy" chose him as one of the World's 100 Best Intellectuals of 2012. He was ranked first among the world's leading cultural thinkers, ahead of Tunisian President Moncef Marzouki.
He also won the "Index on Censorship of Digital Freedom" award in 2013, for his use of technology to promote open and free Internet.
Several human rights organizations, such as Human Rights Watch and the Gulf Centre for Human Rights, were concerned with Bassel's case and repeatedly demanded his release and stressed their concerns for his safety.
This concern was not feasible as Amnesty International announced on 1 August that the Syrian programmer was executed in the regime's prisons in 2015. The social media pages of his fellow revolutionary activists mourned the last memory of their peaceful revolution that they kept holding on.
His wife, only on paper, mourned her dream that was not fulfilled. She wrote: "thank you for killing my beloved. Thank you, because I was the bride of the revolution and I became a widow thanks to you. What a pity Syria! What a pity Palestine! My pity!"
if you think the article contain wrong information or you have additional details Send Correction