Amman Trying to Impose Council in Syria's Rakban Refugee Camp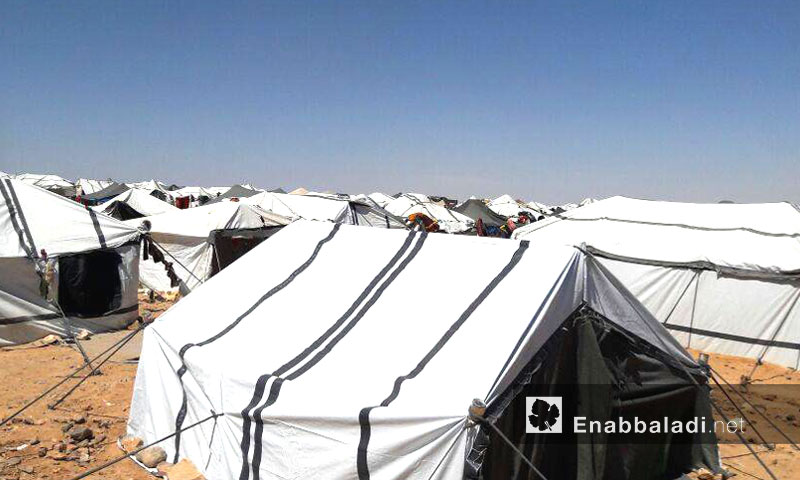 Local activists claim Jordan hopes to establish loyal council under the authority of FSA-linked rebel group, Enab Baladi reports
Jordan is working to form a civilian council under its sponsorship in the Rakban camp for displaced people on the Syrian-Jordanian border, multiple sources told Enab Baladi.
Activists on social media on Sunday circulated a statement about the council's formation, said to be the result of the "efforts of Sheikh Rakan Khedeir Abou Badr, head of the Jaish Ahrar al-Ashair, under the sponsorship of Hashemite Jordan."
An independent journalist from the camp who asked not to be named told Enab Baladi that the names in the statement were working under the banner of the Jaish Ahrar al-Ashair (also known as the Army of Free Tribes) which was established at the end of 2014.
The camp contains a local council from which emerged a local administrative council which recently incorporated police and civil defense offices.
The council's formation comes "to oversee refugee affairs and to ensure continuous communication with humanitarian organizations, in addition to providing necessary food aid, drinking water and sanitation improvements, and following up on educational issues," according to the statement.
Enab Baladi could not confirm the veracity of the statement, which put forward the names of 11 people, including the council president and the heads of the civil administration, statistics, services, security, education, judicial and financial offices.
Separate sources confirmed that meetings had occurred in Jordan over the past few days to form a civilian council in the camp. But the sources did not confirm or deny the contents of the statement.
The independent journalist in the camp said: "We were surprised by the formation of the new council, which is under the authority of the Jaish Ahrar al-Ashair."
He noted that it was "not present on the ground and no official statement about its formation has been issued."
Regarding its formation, the journalist said, "Civilians or notables of the tribes in the camp should be notified of the council before its formation," stating that the council should not be imposed without the knowledge of residents.
---
This article was translated and edited by The Syrian Observer. Responsibility for the information and views set out in this article lies entirely with the author.
if you think the article contain wrong information or you have additional details Send Correction