Between War and YouTube ... Lost Childhood and Immature Adolescence
About Maria and her Generation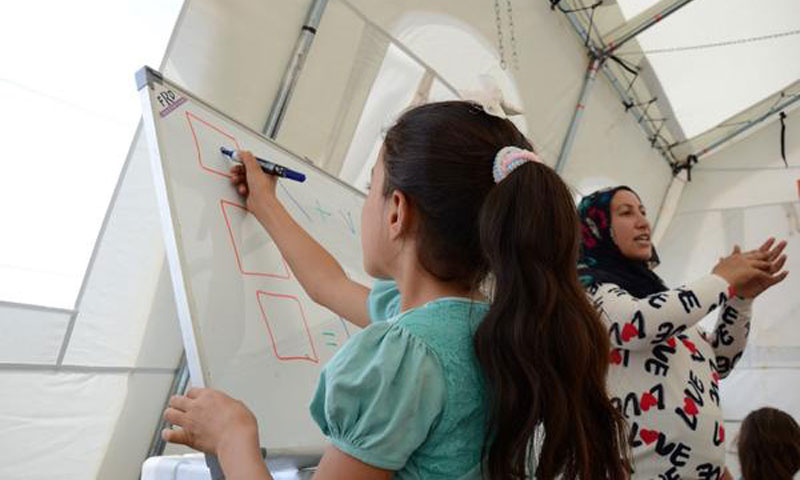 Umm Alaa tries whisperingly to sum up her idea, but she could not. She turns around to her daughter, who is staring at her smart phone screen all the time, and asks her: "mommy, would you please make us two cups of tea." She becomes silent and waits for her to get out of the room towards the kitchen. She said: "Although Maria is 14 years old, her spirit, awareness and potential never matured and her interlocutors feel she is an eight-year-old girl."
Maria lives with her mother and father in Turkey after they left Homs three years ago. "Maria is the youngest and the last immature grain of the grape," her mother described her.
Discontinuous Education
When the revolution broke out, Maria was seven years old. Umm Alaa said: "Because her school entering coincided with the revolution, Maria's basic education was sporadic. There were strikes, demonstrations, arrests and barriers so she did not receive a good scientific education like her brothers, and I think that this is common to all children of her generation and her peers."
The Interim Government asserts that 5 million students between the ages of 15 and 16 do not receive adequate education and that between 3.2 and 3.5 million children are not educated at all, while the United Nations indicates that 2.1 million Syrian children are not receiving education.
"She was trembling with fear and she hated getting out of the house for any reason," said Umm Ala, referring to the fear that Maria was living with every security escalation and shelling. She adds: "Until now I feel that she is introverted and she rather prefers to stay at home than getting out. When we go to a place, she makes me rush home all the time. The impact of the militarily escalation in Homs was severe and intensified with the news of the arrest of her older brother in the end of 2012. Unfortunately, he was the closest of all her brothers, and thus her loneliness has become more intense.
Martyrdom
A year and a half after his arrest, the family knew about the death of its eldest son under torture, which intensified the effect on Maria. "The impact of the news on me and Alaa's father was severe, but its influence on Maria was different. There was no need to hide the news, which she met with crying day and night."
Umm Alaa points out that although many years have passed since the death of Alaa, Maria often wakes up to tell her mother that she dreamt of him. She adds: "It happens almost daily, she was very close to him and still is. She sometimes asks me about the possibility of him being alive. One might expect the child to forget, but she seems to remember more than all of us."
A report published by the British organization Save the Children in March 2017 indicated that more than 84 % of Syrian children suffer daily stress because of missile and bombing strikes. It pointed out that after making interviews with 450 children, they were found to be suffering from high degrees of psychological pressure, ranging from autism and the difficulties in sleeping to suicide attempts, as more than two thirds of these children lost one of their beloved persons, were injured or their house was bombed.
Asylum and Isolation
After Alaa's death, the family decided to leave Syria. "I have three daughters and two sons," says Umm Alaa and adds: "Alaa, may God have mercy upon him, was martyred. Muhammad travelled to Europe and my daughters also travelled with their husbands outside Syria, so we found ourselves, me and Abu Ala, alone with this girl in a country at the mercy of our son's murderer. Then, we decided to leave. We handed over our house in Homs to one of our relatives and we entrusted Allah."
According to Save the Children report, 48% of children in combat zones have lost their ability to speak or face increasing speech difficulties since the start of the war, 81% become more aggressive and 71% are suffering from urinary incontinence.
The family's stay in Turkey was not stable because of the lack of a binding reason to live in this city or that. "Initially, we stayed in Rihaniyah, but after the first six months we decided to move to Iskenderun, where we moved between several houses in different areas (…) This is the nature of the life of the refugee and the tenant, but it is a life that does not allow the preservation of a single family atmosphere or the establishment of social relations with the neighbours. Thus, Maria did not make real friendships with girls of her age, which is essential but we cannot do anything about it.
YouTube
About a year ago, Maria had to be registered at a Turkish school due to the family moving to a new area and the absence of a nearby Syrian school. The family opted for the school of imams and preachers. "We chose this school because Arabic is taught there and this makes Maria communicate easier with her peers because of their knowledge of some Arabic words. But that did not mean she did not face many difficulties in the first year at school," says the mother.
With every difficulty she faced, she was more reluctant to study and was losing her desire to communicate with others. Her mother explains: "She avoids talking to her brothers via Internet, though she loves them so much, and spends most of her time holding the smartphone, wearing the earphones and moving from a series to another on YouTube. She has neglected her studies which need more effort and unfortunately there is nobody at home to help her understand the Turkish curriculum. The situation improved slightly in the second semester and she adapted to the new circumstances, but she is still introverted, not open and afraid to go one step further without me. She also acts and behaves in a way which does not show her real age."
We Cannot Do Much
"I feel a negligence of the circumstances in which Maria lives. We have not given her much and we cannot change that now," with these words Umm Alaa expressed her sense of responsibility towards her daughter, noting that the living conditions of her other children are quite different from what the family can provide to Maria.
The mother clarifies: "Our Financial conditions were better and the nature of life was different. The basic necessities that we provided to our children became a comfort that does not meet our income. We live off our savings and financial assistance that my son and daughters are sending from time to time. When her brothers were children, every two years we used to go to resorts on the sea coast. The rituals of the Eid, its clothes, sweets, meals and guests are all gone today. The games, books and magazines in the house and the personal beds are no longer available. For example, we are currently living in a two-room house; one room for me and Abu Alaa and a second is a living room for guests where Maria sleeps and studies. These are our current financial capabilities and we cannot do better than that as war has changed everything."
Maria
Very calmly and shyly, Maria makes tea and answers the questions briefly and in short sentences. "Thank God. I am doing well in my studies," she says and adds: "Thank God, my Turkish language is improving." Then, she puts on her headphones and returns to her phone, serials and private world.
if you think the article contain wrong information or you have additional details Send Correction