Reverse Migration From Turkey to Syria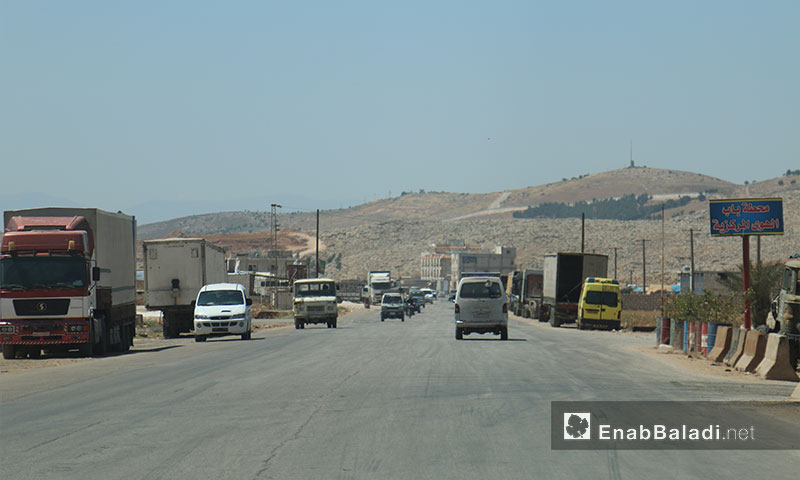 Calm and stability in parts of Syria's opposition-held north are encouraging thousands of Syrians to leave Turkey and return to their homeland, Enab Baladi writes
"No matter how long we refugees remain outside our country, our final route is return." So says a man in his 30s, Taysir al-Helou, who decided to stay in his city of Idleb after returning during the Eid al-Fitr holiday from Turkey, where he arrived as a refugees about four years ago.
The province of Idleb and other areas of northern Syria have seen a reverse migration from Turkish cities as tens of thousands of Syrian families returned to spend the holiday with their relatives, and a large portion of them decided to remain.
Helou believes that "the land of the displaced is not our land, and we will not find anything sweeter than the soil of our nation." The relative calm and the gradual return of life to normal in northern Syria has been a major reason for many of the returnees' decisions, with the Eid holiday enough to achieve what they sought.
Opening private projects
The desire to revive the situation in his city after years of war encouraged Helou, who worked as a trader selling coffee in the Turkish city of Antakya, to take the decision to stay, as he told Enab Baladi.
The young man added: "We need to be in Syria right now in order to return life to the city. I'll open a commercial project with the money I saved from my work."
Helou has not yet decided on a specific project but is studying a number of ideas, including selling coffee to benefit from his experience working in Antakya.
More than 68,000 Syrians headed to Syria through the Bab al-Salama crossing, according to the Turkish migration authorities, and only 8,000 people had returned by the beginning of July.

Meanwhile, the number of returnees through the Bab al-Hawa border was 80,000, and there are no details on the number who have returned to Turkey.
Difficulties living in Turkey
Other reasons have pushed some to think about staying in Syria, including Baraa Ghazwan, a young man who recently arrived in the northern Idleb countryside from Turkey, where he found life difficult. "I was working for long hours in a plastics factory," he said.
Ghazwan's income was not enough to live with his small family in Turkey, he told Enab Baladi, adding: "You can work in Syria in various fields, and you can make an earning that is close to what you received in Turkey, while the cost of living here is much lower."
Some Syrians in Turkey are working in factories and receiving low wages compared with Turkish workers, while they are deprived of guarantees and insurance.
Observers attribute the fact that thousands of Syrians remained to the stability of the situation in the northern and eastern Aleppo countryside after Islamic State (ISIS) was expelled during the Euphrates Shield operation which began in August 2016, in addition to the suspension of bombardments in Idleb province, which for years targeted its vital infrastructure, thanks to the Astana agreement signed last May.
This article was translated and edited by The Syrian Observer. Responsibility for the information and views set out in this article lies entirely with the author.
if you think the article contain wrong information or you have additional details Send Correction