Detained for 14 years in Palmyra
Abu Muhanna Transforms Stones Into Artwork in Idlib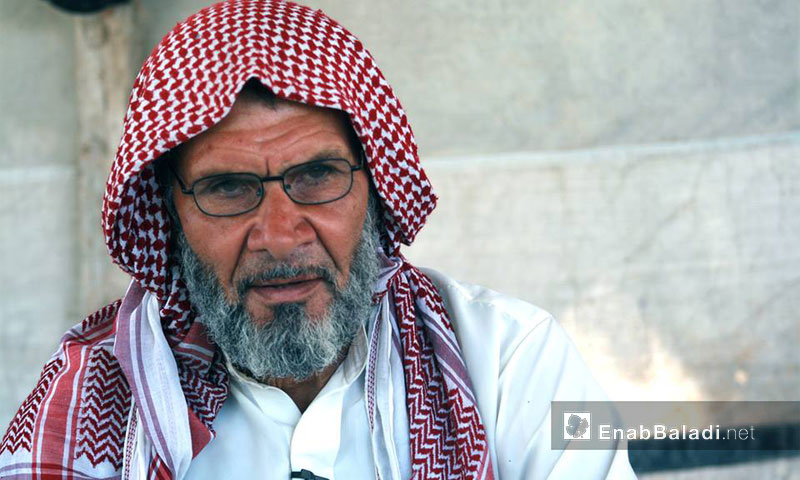 A born artist draws the inspiration for his paintings from nature. His skill transforms hard stone into artwork. The viewer has no choice but to admire his work and praise a man who was not prevented by old age or many years of detention from practicing his art.
https://youtu.be/7cRGiT3yrYc
Hammoud Mohammed al-Hassan, or Abu Muhanna as his neighbors call him in the village of Maaret Horma south of Idlib, makes his paintings out of colored marble known as "mosaic". He uses the stone to portray the beauty of nature, rather than drawing birds or people "so that people will not thing that it is haram (Islamically forbidden)", he told Enab Baladi.
Abu Muhanna, who spent 14 years of his life inside Palmyra prison after being accused of belonging to the Muslim Brotherhood during the events of Hama in 1982, describes himself as a "homely person". He does not like being far away from his home or away from his "unusual paintings that look nothing like each other".
Abu Muhanna completed elementary school and moved to agricultural school, where he acquired a great deal of knowledge that allowed him to teach for two years. He then worked as head of the Forage Center in Khan Shikhun until he was arrested while trying to flee across the Jordanian border.
Since he was young, Abu Muhanna painted dozens of paintings on leaves and wood until he began to understand the value of art and painting, as he put it. He says, "I never repeat what I paint and I do not draw scenes that I see. I get them all from my imagination."
Abu Muhanna uses the well-known Arabic saying, "You cannot give something you do not have" when he speaks about the pain he has long suffered and about his participation in the revolution, which is not portrayed in his paintings. "Previously, I had planned to draw something that represents a revolutionary group or character but I decided not to so that I would not regret it one day."
In his house, Abu Muhanna displays paintings that he made 25 years ago. Being imprisoned did not stop him from continuing to create art, "I worked as a calligrapher and a painter in prison despite all the torture, in order to get some benefits".
The sculptor's imprisonment further brought out his talents and he began to express himself through his paintings, "just like a deaf-mute person expresses through signs since he cannot speak".
The former detainee does not see any problem with using art for financial gain, explaining that he had participated in exhibitions before the revolution in which he had sought to publicize his work, "I participated in two exhibitions in Jericho and Khan Sheikhun in 2009 but I could not participate after the revolution, even though I tried."
In addition to his paintings, Abu Muhanna makes tombstones and he says he feels "very happy" when he makes them, "It is a commemoration of the deceased."
The first work Abu Muhanna completed after he came out of Palmyra prison was in 2001. He sold around 170 paintings during his years of work, at prices he describes as "very low".
The 60-year-old is now dreaming of meeting someone who would embrace and value his work and his projects, "I dream of organizing an exhibition of my paintings in the future, and perhaps to teach art to some talented people," he says. "This would be an achievement and would preserve my memory after I die".
if you think the article contain wrong information or you have additional details Send Correction