Wheat War in Northern Syria Reveals Fragmentation of Rebel Groups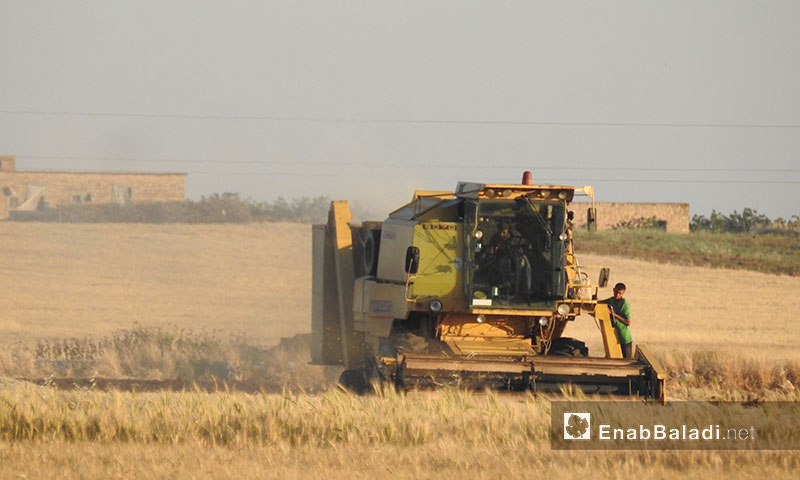 Farmers fear harassment as armed groups face off following attempts by some rebels to offer higher prices for wheat, Enab Baladi writes
A new conflict in northern Syria over the sale of the wheat harvest appeared last week between rebel groups Hay'at Tahrir al-Sham and Ahrar al-Sham, with its cause not a military clash but speculation over the per-kilo sale price.
Each side considers itself the sole authority in the area, and all fellahin (peasant farmers) must deliver their harvest of wheat and barley to them at the price which they set. However, the groups fail to take into account whether this practice is suitable for these farmers and covers the cost of production.
The new conflict chipping away at and fragmenting the Syrian opposition appears in the inability to set a single sale price for wheat, which is considered a basic and strategic good in the continuation of the battle against the Syrian regime.
The strife began following an agreement on May 22 between agricultural stakeholders in northern Syria and the agriculture minister of the Syrian interim government to set the sale price of a ton of soft wheat from the farmers at $265 (141,775 Syrian pounds) and the price of hard wheat at $270 (144,450 Syrian pounds).
In response to Ahrar al-Sham's decision to collect wheat from farmers at a higher price, Hay'at Tahrir al-Sham cut the road leading to the Bab al-Hawa crossing in the northern Idleb countryside at the Sarmada old town square on Wednesday May 31, and prevented aid vehicles and trucks from entering.
The conflict between the two parties over the price of wheat has spread fear among civilians that it could develop into confrontations like those that have occurred in other areas of the Idleb countryside last May, which led to the cutting of the Idleb-Ariha road after members of Ahrar al-Sham in Salqin defected and pledged loyalty to Hay'at Tahrir al-Sham.
The conflict has also spread fear among farmers regarding harassment, especially from Hay'at Tahrir al-Sham, given the majority may sell to whichever group offers the highest price.
The biggest fear lies in the Syrian regime, which has offered a price of 140 Syrian pounds per kilo of wheat, exploiting the rebel groups' conflict, and buying the harvest through traders in the market who cooperate with it and ship it to regime silos.
This article was translated and edited by The Syrian Observer. Responsibility for the information and views set out in this article lies entirely with the author.
if you think the article contain wrong information or you have additional details Send Correction