Daraa: Exams Under Pressure
What Are Students Doing at Al-Assad's Barriers Before Dawn?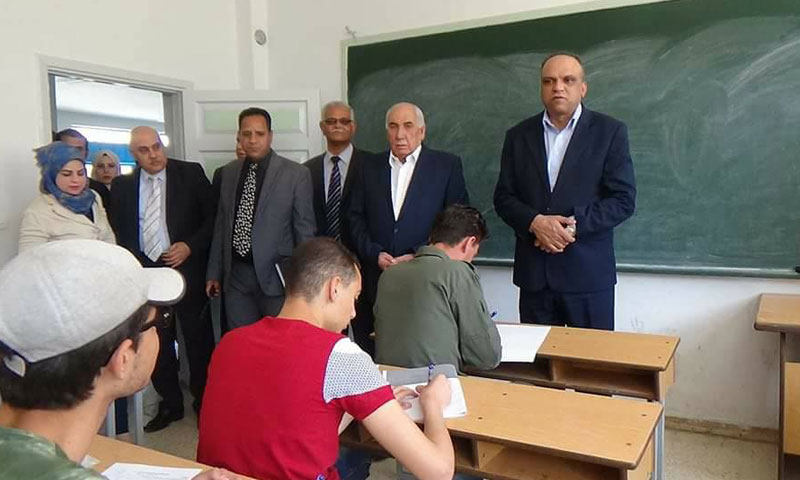 Enab Baladi – Daraa
In ancient times, it has been said "Seek knowledge even if you have to go as far as China." However, China became closer for Syrian students than passing through Al-Assad's barriers and waiting for hours.
In light of the absence of international recognition of diplomas issued by the interim government of the Syrian opposition, students who are residing in the opposition-held areas found themselves facing two solutions the sweetest of which is bitter: either letting go of the dream to get a university diploma or take the risk of going to the Al-Assad-held areas in order to sit for the secondary and preparatory schools exams, regardless of all the difficulties that the adventure may carry.
The talk about this phenomenon is not new since it is repeated every year. During this period of the year, thousands of students from the opposition-held areas in Daraa move towards the regime-held areas in order to sit for the exams and obtain the secondary or preparatory school diploma. However, what is striking this year is that students are obliged to leave their houses very early. Otherwise, they might miss the exam and the whole school year.
The Objective Is To Intimidate Us
Enab Baladi talked to Ahmad, one of the preparatory school students living in Da'el. He said that he sat for exams in Izra, a regime-held city. He added: "I went to Izra before exams and I was thinking of staying there throughout the exams period. However, I was afraid of the security measures that Al-Assad forces would take before accepting my stay. This made me decide to stay in Da'el and go to Izra on the day of the exam and then come back that same day."
Ahmed and many other students were surprised with a new procedure that they did not think of before. "When leaving Da'el towards Izra, we pass through a barrier called 'Abu Kasser.' We were surprised that we were held there for hours under the pretext of security procedures and inspections," he said. This might force students to be late for their exams. "Upon request from the barrier officers, we were obliged to leave the house after 3 am and wait for more than three to four hours, while sitting inside the bus just waiting to pass."
According to Ahmad, the security measures are nothing but an excuse. In normal days, passing through the checkpoint does not take more than 30 minutes. "However, they deliberately stopped us to make us feel emotional pressure and tiredness, in addition to the physical fatigue before the exam." This affects many students. "Personally, in many exams, I used to reach the classroom physically and psychologically tired, and this affects my concentration and my ability to remember the information," added Ahmad.
Teachers Recommend Relaxation
This suffering before the exam resonated among some of the teachers too. Enab Baladi talked to Al-Homsi, a mathematics teacher in the opposition-held area, who considered that this kind of pressure and intimidation on students aims only to exhaust them. He said: "I was surprised by this behavior, especially with preparatory school students who are still considered children. There are no security measures needed to stop them more than four hours."
"I advised my students to try to relax, not to worry during the period of waiting and not to strain themselves trying to study or review with each other, because these conditions do not help them to study in the right way," explained Al-Homsi.
The teacher sent a letter to the staff of the examination centers calling them to take into account the circumstances of these students. "I wish that the responsible people in the exam centers would be helpful with these students and take into account their psychological situation, as they have already gone through psychological pressure throughout the school year. They also live in a continuous military escalation area that lacks many of the life necessities, in addition to the tiredness they feel before reaching the exam room, added the teacher."
if you think the article contain wrong information or you have additional details Send Correction