Rights Groups Slam U.S.-Led Coalition, SDF for Violations in Raqqa Battle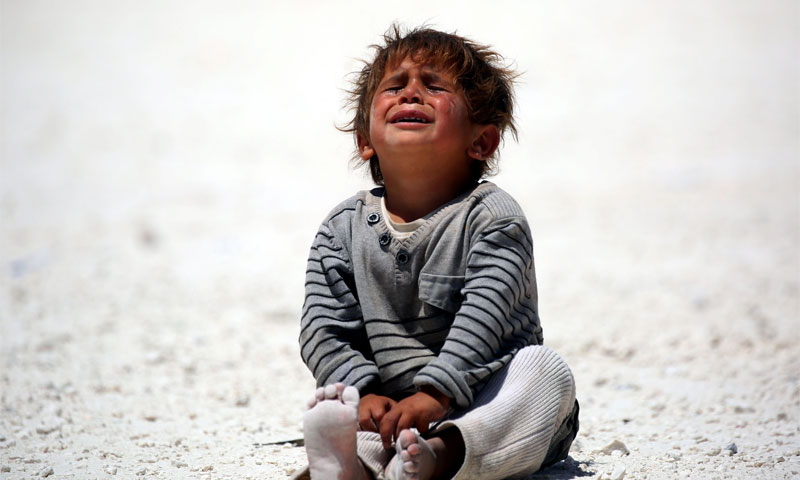 International coalition and SDF using heavy force in battle to retake the city from ISIS, despite statements by Amnesty and Human Rights Watch condemning possible violations
Ten days have passed since the Syrian Democratic Forces (SDF) declared the battle to take control of the city of Raqqa from the Islamic State group (ISIS) had begun and forces backed by the U.S-led coalition have taken four districts in the east and west of the city. But the military operations have been tainted by violations against civilians, revealed by international humanitarian and rights groups.
The SDF launched the battle for the city of Raqqa on June 7 and its forces, backed by the international coalition, have proceeded to advance from the eastern and western sides as part of the "Euphrates Rage" campaign which has been ongoing since November last year. The operation aims to take full control of Raqqa province and has succeeded in expelling the group from broad areas of the province's north, east and west.
White phosphorus a 'war crime'
The Human Rights Watch activist group last week expressed concern that the U.S.-led coalition had used internationally banned weapons during its military operations against ISIS in Syria and Iraq, following reports the coalition had bombed Raqqa with white phosphorus on June 8 and 9.
The group said: "The use of artillery-delivered white phosphorus by the United States-led coalition fighting Islamic State forces in Syria and Iraq raises serious questions about the protection of civilians," adding that, "U.S. forces are using white phosphorus in both Mosul, in Iraq, and in the ISIS stronghold of Raqqa, in Syria. But the rationale for its use by U.S.-led coalition forces is unclear as the coalition does not comment on specific incidents."
The Amnesty International activist group said in a report on Friday June 16 that expert analysis shows that the U.S.-led coalition has used white phosphorus in Syria, which could amount to a war crime.
Samah Hadid, campaign director in Amnesty's Beirut regional office, said that "the use of white phosphorus munitions by the U.S.-led coalition gravely endangers the lives of thousands of civilians trapped in and around Al-Raqqa city, and may amount to a war crime under these circumstances," adding that, "It can cause horrific injuries by burning through flesh and bone and can pose a threat even weeks after being deployed by reigniting and burning at extremely high temperatures."
Hadid added: "The U.S.-led forces must immediately investigate artillery strikes on Jezra and Al-Sebahiya [neighborhoods] and take all possible measures to protect civilians."
ISIS' Amaq news agency published videos showing the coalition using white phosphorus bombs in their bombardment of Raqqa on June 8 and 9, which the Raqqa is Being Slaughtered Silently activist group confirmed through matching recordings and videos. At the same time, 23 civilians were killed in the city, according to the U.K.-based Syrian Observatory for Human Rights, which said they were likely killed by white phosphorus.
The international coalition justified its bombardment of Raqqa saying that this falls under the law of armed conflict in the battle which the city is enduring, and published a brief report in which it said the use of white phosphorus rounds was allowed "for screening, obscuring and marking in a way that fully considers the possible incidental effects on civilians and civilian structures."
Protect civilians and stop recruitment of children
Reports of violations by the SDF continued in June, with Human Rights Watch accusing them of continuing to recruit children, saying that since 2013 they have violated all international recommendations regarding this matter.
The group said in a statement on June 13 that the coalition must "make clear to the Syrian Democratic Forces and other forces that recruiting children as soldiers is unlawful, even if they are not serving a military function; discipline officers who allow children to serve under them; and encourage the forces to provide former child soldiers all appropriate assistance for their physical and psychological recovery and social reintegration; and commit publicly to ceasing coordination with or assistance to armed groups that recruit and fail to demobilize child soldiers."
This article was edited by The Syrian Observer. Responsibility for the information and views set out in this article lies entirely with the author.
if you think the article contain wrong information or you have additional details Send Correction